Shares of Hitachi and Mitsubishi Heavy get merger boost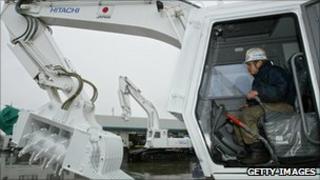 Shares in Japanese infrastructure giants Hitachi and Mitsubishi Heavy have gained on merger speculation.
Foreign and domestic media reported on Thursday that the two firms were set to start talks to merge some businesses. Both companies denied the reports when contacted by the BBC.
Hitachi shares ended the day up 1.7% while Mitsubishi Heavy was up 3.4%.
Hitachi and Mitsubishi Heavy are two of Japan's biggest firms, and a merger could help make them more competitive.
A weakening domestic market means many Japanese firms want to cut costs, while they are also facing increased competition from foreign rivals.
"If the merger is confirmed it'd be very positive news for Japanese industry," said Kiyoshi Noda from MU Investments.
"Because Tokyo companies wouldn't compete against each other when bidding for overseas infrastructure projects, thus increasing their chances and through this helping the country's economy,"
Hitachi president Hiroaki Nakanishi told Japanese media that an announcement on the merger would be made on Thursday.
However, both companies later denied this, saying no announcement was planned.
News providers including Bloomberg, Agence France Presse, Nikkei Business Daily and the Wall Street Journal carried reports on Thursday claiming that the two firms were about to start talks regarding a possible merger.
The Nikkei reported that the uncertain future of nuclear in Japan, a field both Hitachi and Mitsubishi Heavy were looking to as a source of growth, as well as the strength of the yen sparked the talks.
An alliance between the two companies would create one of the world's largest infrastructure companies, according to the Nikkei.