Sellafield plant set to cut 600 posts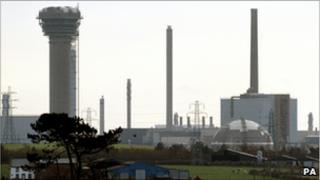 A nuclear fuel manufacturing plant at the Sellafield complex in Cumbria is to close, putting 600 jobs at risk.
The Mox plant, which recycles plutonium into mixed oxide fuel, is no longer viable because of uncertainty in the Japanese nuclear industry, the plant's only customer, officials said.
Officials at the Prospect union, which represents the workers, condemned the decision, saying it had been made without consultation.
The union said it was "ill-conceived".
The Nuclear Decommissioning Authority (NDA) which runs the plant says workers may be offered jobs elsewhere in the complex.
However, it admits there is no guarantee of redeployment. It says the closure of the plant will take several months.
Fukushima crisis
The Mox facility was very new by the standards of British Nuclear plants - only being completed in 1996.
It was built to turn waste plutonium from existing nuclear plants into fuel that could be used by foreign buyers - most recently Japan.
However, the NDA says demand from Japan since the Fukushima nuclear crisis is unknown.
The Fukushima plant in Japan remains closed and it is not clear how much energy Japan will generate from nuclear sources in the future.
The NDA said the Mox facility therefore had to close in order to limit potential costs to the UK taxpayer.
New plants
The government is currently considering the development of new nuclear plants which may need fuel similar to that produced by the MOX facility.
However, the NDA says it is unlikely that fuel could have been produced by the existing plant which is designed for a previous generation of foreign reactors.
"The current plant is not configured to manufacture the Mox fuel that would be required for a new generation of UK reactors," said Bill Hamilton, head of stakeholder relations at the NDA.
However, the Prospect union has warned that specialist skills needed for future nuclear development could be lost from the closures.
"It would be madness to lose their specialist skills at this time of expansion, especially as an announcement regarding a new Mox plant is overdue," said Mr Graham.
Sellafield will continue to work on decommissioning old UK nuclear plants and reprocessing spent fuel.
The site employs about 12,000 people, according to the NDA, which says any new plant would probably be built in the complex.