Hitachi set to outsource TV production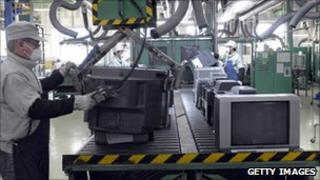 Japan's Hitachi has said it is planning to outsource production of all its TV sets to foreign companies as part of its new business strategy.
The company said it was shifting its focus on manufacturing and developing more profitable products.
The announcement comes as slowing demand and falling prices of TVs have hit earnings of electronics makers.
Last week, Hitachi reported a 86% plunge in first quarter net profit from a year earlier.
However, the company added that despite planning to end all TV production in Japan it was not planning to get out of the sector.
"We will carry on selling TVs, but they will be manufactured by our partners," Hitachi spokesman Atsushi Konno told the BBC.
'Good move'
Hitachi's announcement comes just a day after consumer-electronics maker Sony said it was planning to restructure its loss-making TV business.
Last week, the world's largest manufacturer of TVs and flat screen panels, Samsung Electronics, reported a 15% drop in sales of Liquid Crystal Display's (LCDs).
The Korean electronics giant has now made a loss at its TV unit for two successive quarters.
Analysts said given the global economic conditions and the weak outlook for the sector, Hitachi had made the right call.
"TVs are an unrewarding business with low margins and little value added," said David Rubenstein of MF Global.
"Even Samsung and LG, with larger scales, are struggling with both their panels and TVs. It's a good move to get out." he added.
Currency problem
A slowing demand and falling prices are not the only issues that have hit Japanese TV makers.
They have also had to deal with a strengthening currency.
A slowdown in the US recovery, coupled with the continuing debt crisis in various European countries, has seen investors put their money in traditional havens such as the yen.
The has resulted in the Japanese currency rising by almost 10% against the US dollar in the past 12 months.
That is not good news for Japanese manufacturers as a strong currency not only makes their goods more expensive but also hurts profits when they repatriate their foreign earnings back home.
"The yen's rise is forcing companies to make a choice: consolidate and outsource or go bust," said Akio Makabe, economics professor at Shinshu University.
"Electronics firms especially are being forced to play to their strengths and focus on components that nobody else can replicate, while outsourcing even more assembly abroad."