European stock markets continue to slide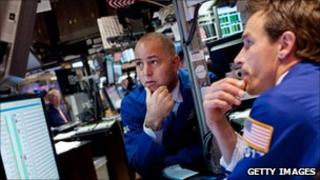 European shares have fallen sharply as fears grow about eurozone debt levels and the health of the global economy.
The main share indexes in London and Frankfurt were both down 2.3%, while the Cac 40 in Paris dropped by 1.9%.
US stocks initially fell after the release of disappointing service sector data, before finishing higher. Analysts saw it as a short-term rebound though.
Meanwhile, the price of gold, seen as a safe investment in times of economic uncertainty, hit a new record high.
The precious metal touched $1,672.65 an ounce in early trading.
The Swiss National Bank also lowered its target for inter-bank lending in an attempt to lower demand for the Swiss franc, which is also seen as a safe investment and has risen sharply in recent weeks.
Cheaper oil
US markets opened lower after figures from the Institute of Supply Management suggested the country's service sector grew at its slowest pace in 17 months in July.
Separate figures from the Commerce Department showing factory orders falling in the same month contributed to the market gloom.
But the Dow Jones gained in afternoon trading to close 0.25% higher, while the S&P 500 rose 0.5%
"We are not in a bear market psychology yet, but we are definitely in a solid correction psychology," said James Dailey, portfolio manager at Team Asset Strategy Fund.
Meanwhile, oil prices fell to their lowest close in a month, with US light crude falling $1.86 to $91.93 a barrel and Brent crude dropping $3.23 to $113.23.
Earlier, Asian markets had closed lower, with Japan's Nikkei closing down 2.1% and Hong Kong's Hang Seng down 1.9%.
Government bond yields in Spain and Italy also rose, indicating a rise in the risk associated with lending to the two countries.
Figures also released on Wednesday suggested a slowdown in growth in the eurozone services sector.
The closely-watched Markit Services PMI index fell to a near two-year low of 51.6 in July, down from 53.7 in June. Any score above 50 indicates expansion.
Shifting focus
US lawmakers managed to avoid a debt default on Tuesday by raising the debt ceiling. However, analysts say there has been a sharp change in global focus from the US debt issues.
"Disappointing economic data on both sides of the Atlantic, as well as surging Italian and Spanish bond yields, has seen risk appetite plummet as pessimism about the global recovery starts to take hold with a vengeance," said Michael Hewson at CMC Markets in London.
Koichi Ono from Daiwa Securities Capital Markets in Tokyo said: "I think the conditions have completely changed this week.
"Until last week, people have been saying the US debt ceiling was the problem. Now they talk about worries about the health of the economy."
This was underscored by official data released on Tuesday, showing a fall in US consumer spending for the first time in nearly two years.
The figures also showed that incomes had barely risen, indicating that the economy was stalling in the first half of this year.
In addition to the US, eurozone debt worries are continuing to unsettle investors.
Spain and Italy are under renewed pressure because of concerns that the eurozone bailout fund is not enough to protect their larger economies if they can no longer pay their debts.
"It's a pretty bleak picture," said Justin Gallagher of RBS in Sydney.
"The implications for the Italian market and economy going through something similar to Greece is pretty frightening. People are suggesting it's not bailout-able. That's how big it is."