China's central bank governor 'welcomes' US debt deal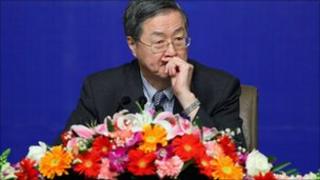 China's central bank governor has welcomed measures taken by the US to avoid a default on government debt obligations.
The comments come after the US took measures to raise the debt ceiling.
Zhou Xiaochuan said the People's Bank of China (PBC) would "closely observe its implementation", in a statement on the PBC website.
Separately, Chinese rating agency Dagong downgraded the US credit rating, according to Xinhua news agency.
Mr Zhou said China, which is the largest holder of US debt, hopes that the US takes responsible policy measures to handle its debt issues, while keeping the interests of the rest of the world in mind.
But he reaffirmed that China would continue to diversify its reserve assets to minimize the negative impact of fluctuations in the international financial markets on the Chinese economy.
Rating downgrade
In a separate move, the little known Chinese ratings agency, Dagong, has lowered the credit rating of the United States from A+ to A, with a negative outlook.
Dagong, said in a statement that the decision to lift the debt ceiling will not change the fact that the US national debt growth has outpaced that of its overall economy and fiscal revenue, which will lead to a decline in its debt-paying ability, according to Xinhua.
Dagong announced last month that it had put the US credit rating on a negative watch for a possible downgrade.
However, the major credit rating agencies, Standard and Poor's, Moody's and Fitch have all so far retained their triple-A rating for the US, albeit with a negative outlook.
In November, Dagong downgraded the US rating from AA to A+ after the Federal Reserve began a stimulus program, known as quantitative easing.