Police to pay more for pensions, says Home Secretary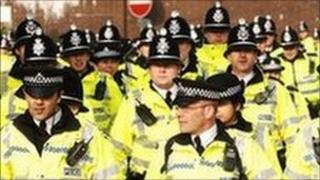 Big increases in police pension contributions have been outlined by the Home Secretary, Theresa May.
Police officers will pay between 1.5 and 4 percentage points more of their salaries, with the increases staggered over the next three years.
The extra payments will vary according to salary bands and the section of the scheme the officers are in.
The proposals are similar to those announced last week for teachers, civil servants and NHS staff.
Justified increases
Mrs May said the higher payments were needed to help the government raise an extra £2.8bn from public service pension scheme members in the next three financial years, to help fill its spending deficit.
In a letter to the Police Federation, she said that higher police contributions were fair because the increasing cost of police pensions had been met mainly by the taxpayer.
"Expenditure on public service pensions over the last decade has increased by a third to £32bn a year, and is expected to rise to nearly £34bn per year by 2015-16," she said.
"There needs to be a fairer balance between what employees pay and what the taxpayers contribute towards a public service pension.
"Police authorities currently contribute 24.2% towards police officers' pensions, whilst officers contribute either 9.5% or 11% themselves," she added.
The home secretary proposes that consultation on her plan should be completed by the end of September.
Ian Rennie, general secretary of Police Federation of England and Wales responded cautiously.
"[We will] do everything within our means to ensure that the value of police officers' pensions continue to reflect the difficult job that we do to protect the public on a day-to-day basis," he said.
"We will be responding to the consultation in due course and will share our response and recommendations with members as soon as it is finalised."
Higher payments
There are two police pension schemes: one for staff who joined after 1987, with contributions of 11% of salary, and a less generous one for staff who joined after 2006, with contributions of 9% of salary.
Police officers who earn up to £27,000 a year, typically a constable with two years' service, will eventually be asked to pay an extra 1.5 percentage points of their salaries by 2014-15 if they are in the 2006 scheme, but nothing if they are in the 1987 section.
Officers earning between £27,000 and £60,000 a year (such as a chief inspector) will eventually pay 3.2 percentage points more in the 1987 scheme and 2.5 percentage points more in the 2006 scheme.
Officers earning more than £60,000 a year, such as superintendents, will pay 4 percentage points more in the 1987 scheme or 3.2 percentage points extra in the 2006 scheme.
Thus some officers in the 1987 scheme would eventually be paying 15% of their salaries towards their pensions.
For a superintendent earning just over £70,000 a year that would amount to contributions totalling £10,502 each year.
The Home Office said the schedule of higher contributions was designed so that higher earners paid more, and lower earners were relatively protected to avoid younger, new recruits simply opting out of the scheme.