Why customising cars is still cool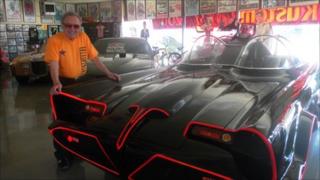 Meet George Barris. You might not recognise the name, but you might just recognise the car next to him.
He is the man responsible for designing the iconic Batmobile for the 1960s Batman TV show, as well as other famous movie cars.
George, not one to shy away from self-promotion, styles himself as the "king of the kustomizers".
Customising involves enhancing the styling, functionality and performance of vehicles, and George has been "tricking out" cars since 1940.
As a reward for helping out at the family restaurant, George and his brother Sam were given a 1925 Buick. They fixed it up and experimented with the appearance of the car, which they then sold on for a profit.
After trips to the hardware store to pick up some paint, and the kitchen store to get some pots and pans for hubcaps, George then proceeded to take all the knobs off his mum's dressing room cabinet doors to use in the car's grille.
"But when I got home that night, and poor mum couldn't get in her cabinets because I had all the knobs off - I was grounded for a week," he reminisces.
Hollywood stars
His first job was about a year later, customising a car with a set of cat-eyed tail lights for which he charged $10. From here he moved to LA and was involved in illegal street drag racing.
The movie industry took an interest in this world because it was colourful and exciting, and there were many stories to tell about racing in the streets and crashing.
This marked the beginning of his customising work for films, with High School Confidential being his first movie project.
And as Hollywood increasingly fell in love with George's ideas, so did the Hollywood stars passing through the doors of his shop in Burbank, North Hollywood, requesting a Barris creation.
John Wayne, Elvis Presley, the Beatles, Frank Sinatra, Dean Martin, and Sonny and Cher are just a few names that came to George wanting something special for their vehicle.
"Sonny and Cher came to me, and they were going to do a movie, and Ford says here's a Mustang for them," says George.
"So I said to Cher, 'What colour would you like?' and she said, 'I want hot pink, white fur, white patent leather'. Sonny said 'I'm not going to drive a pink Mustang', so I said, 'okay I will get you two, a his and hers'.
"His, I put leopard skin in it. I painted it in gold. Hers is in pink with white pearls."
But when did customising actually start?
Peter MacGillivray is vice president of events at Sema, an organisation that represents accessory manufacturers, distributors and marketers in the customising industry.
"The [customising] industry was born after World War II. Some theories suggest that service men and women got a taste of high horsepower aircraft engines during the war - they translated that knowledge and interest into grassroots motorsports activities after the war," he says.
At about the same time, US consumers began to form car clubs, compete in races and more importantly, modify their vehicles to perform better, he adds.
Mr MacGillivray believes that customising took off in the mainstream because the notion of personalisation had become part of our culture.
He also states that popular culture, such as music, movies and TV shows have embraced customised cars.
"Heck, the most popular video games in the world are automotive-related and they feature customised cars," he says. "Consumers are inundated with messages that customising is cool."
Interdependent industry
But interestingly, due to changing consumer trends, the big car makers are not able to stay on top of consumer tastes, so they are not the ones making a lot of revenue in this area.
"The typical Sema manufacturer is a small business that is best suited to stay on top of the trends and tastes of the consumer," Mr MacGillivray says.
But despite being profitable, the industry has not been immune from the economic downturn.
And due to the interdependency of the industry, the economy has had a domino effect on the different businesses that are linked together.
"We were hit hard when the economy downturned as most of the products we offer are not necessary items and are discretionary income," says Mike Spagnola, president of Street Scene Equipment, which offers over 2,800 different parts for cars and trucks.
"Because we build most of our products in the United States, the downturn not only affected us, but our local suppliers as well.
"The good news was that we didn't need to import large quantities of products from overseas which allows us to keep our inventories in line."
Mr Spagnola believes the customising consumer falls into one of three categories: The "younger crowd", who has purchased a used car or truck and wants to individualise it. Such a person might buy a few accessories at a time as he or she has some extra money.
Secondly, the "over-50 crowd" who can now afford the car they always wanted and wants to do everything at once to make their car unique. That buyer might go to a dealership and order a car with the products already on, or leave the dealership and immediately want to accessorise the car.
And the third group are people who want products to make their car safe or roadworthy. This group tends to buy items such as replacement mirrors and mud flaps.
Mr Spagnola says that over the last few years he has seen a resurgence in older vehicles being accessorised as customers wants to keep their vehicle for longer instead of buying a new one.
As for George Barris, now in his 80s, his infectious love of designing cars is still prevalent to all who meet him.
And just like the customising industry, George shows no signs of slowing down anytime soon.
"You dream at it. Even at night when you are home and watching TV, and all of a sudden something goes by and you say 'oh, look at that, I can take that' and right away I'll sketch something."