IMF details risks to UK economic growth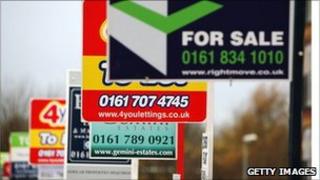 The International Monetary Fund says there are still "significant" risks to inflation, growth and unemployment in the UK.
In its latest assessment of the UK, the IMF said growth would be 1.5% this year - less than the government expects.
It backed the current austerity measures as "appropriate" to the present economic conditions.
However, it warned the government may need to react to new economic problems such as falling house prices.
The Office of Budget Responsibility had forecast 1.7% growth for 2011.
In its most likely "central scenario", the international financial regulator and lender predicted inflation would fall from 5% in 2011 to 2% by the end of 2012, while growth would accelerate to 2.5%.
Contagion fear
But the IMF warned that there was "substantial" uncertainty about this scenario.
The impact of spending cuts, higher prices for commodities such as oil, economic "turmoil" in the eurozone and falling house prices could throw the economy off course.
The report warned that the ratio of house prices compared with average earnings was still 30% above its historical average, meaning prices could fall.
It also estimated that the UK banking system had $178bn (£111bn) worth of loans to the three most troubled eurozone economies, Greece, the Irish Republic and Portugal - 25% of the total capital held by UK banks in the first quarter of 2011.
Continuing uncertainty about the ability of these countries to pay their debts therefore poses significant risks to the UK financial system.
If these risks materialised and growth stalled, "significant loosening of macroeconomic policies" would be required, it said.
This could include tax cuts to boost spending.
The IMF also suggested the Bank of England might need to return to quantitative easing - the process of increasing the amount of credit available in the economy.
However, should growth be better than expected, the IMF suggested that the Bank of England may have to increase interest rates to control inflation.
'Hold the course'
"We know we're in for a choppy time. What I think is important is that we stick to our course. That we continue to reduce the deficit," said the Conservative Financial Secretary to the Treasury, Mark Hoban.
He said government policy to encourage manufacturing while cutting the deficit had been endorsed by the IMF.
The opposition Labour party, however, blamed government spending cuts for the slowdown in growth.
"The government have missed every target they've set on relation to growth so far, they've missed their growth targets completely," said Labour shadow treasury minister David Hanson.
The report supported measures to limit the risk of collapse in the UK's banking and financial system, but said risks remained.
It also called for improvements in financial reporting, where it said the UK remained less advanced than other developed economies.