S Korea buys gold as safe haven, first time since '98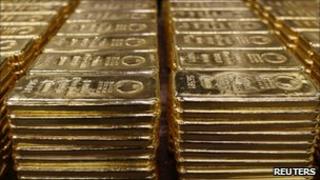 South Korea's central bank has confirmed it has made its first purchase of gold in 13 years.
The purchase of 25 tonnes of gold, worth $1.24bn, shows the bank is diversifying its foreign exchange reserves away from the US dollar.
Gold is seen as a safe haven when other forms of investment, such as shares and currencies, are more volatile.
It is the first gold purchase by the bank since the Asian financial crisis, more than a decade ago.
"As a real safe asset, gold helps us to cope effectively with changes in international financial market," said Jaehyun Joo of the Bank of Korea.
'Safety net'
The weakness of the global economic recovery and the debt problems in Europe and the US have seen many investors turn to gold.
As the uncertainty surrounding the global economic outlook grows, the demand for gold has been increasing, sending its price to new record highs.
The Bank of Korea said it bought the precious metal on the global market between June and July, bringing its total gold reserves to 39.4 tonnes.
"We expect that gold would serve as a safety net for official foreign reserve and enhance the stability of the Bank Of Korea's foreign reserve management," Mr Joo added.
According to the bank, South Korea now ranks 45th in the World Gold Council's list of central banks holding gold.
The bank would not comment on whether or not it intended to buy more gold.
The gold price was not affected by the move.