HSBC to axe 30,000 jobs despite pre-tax profits rise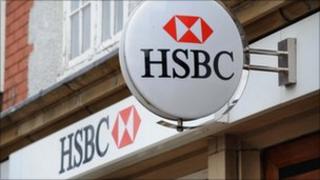 Banking giant HSBC has said it will cut another 25,000 jobs by 2013 and exit operations in 20 countries as it looks to save billions of dollars.
The announcement came as the bank reported pre-tax profits for the first six months of the year of $11.5bn (£7bn), up 3% on the $11.1bn the bank made a year earlier.
HSBC said it did not expect any of the new job cuts to fall in the UK.
The bank had already announced 5,000 job cuts, 700 of which are in the UK.
Together, the job cuts amount to about 10% of HSBC's total workforce, although the company stressed it will also be recruiting staff by 2013.
"The net number will be a lot smaller than the 30,000 [job losses]," said group chief executive Stuart Gulliver.
As well as the job cuts, the bank said it is closing its retail banking operations in Russia and Poland and selling three insurance businesses as part of pre-announced plans to save $2.5bn-$3.5bn by 2013.
On Sunday, it announced the sale of 195 US retail branches, primarily in New York, to First Niagara Bank for about $1bn.
Following the better-than-expected results and job cuts announcement, HSBC shares rose 3.4% in early London trading.
"HSBC has set the bar high for those that follow, beating market expectations and planning to streamline its business further," said Richard Hunter at Hargreaves Lansdown Stockbrokers.
'Right direction'
Revenue for the first half was $35.7bn, with double-digit growth in Hong Kong, the rest of Asia Pacific and Latin America. However, US revenues fell.
The bank was profitable in all global regions, helped by a sharp reduction in charges due to bad loans, particularly in the US, which fell to $5.3bn from $7.5bn a year earlier.
In the UK, pre-tax profits for the period were £843m, an increase of 29%.
The bank said its global commercial and retail banking operations had performed well, but investment banking profits had slipped.
"I am pleased with these results, which mark the first step in the right direction on what will a long journey," said Mr Gulliver.
The bank was also cautious in its outlook for the coming months.
"The global economy appears to be losing momentum in its recovery. Financial markets globally will likely be volatile over the rest of this year and into 2012," it said.
It highlighted the possible impacts of banks being forced to sell assets in order to hold more capital in reserve following the financial crisis and ongoing concerns about high sovereign debt levels.
It was, however, more optimistic about the prospects for emerging economies.
HSBC is the first of the UK's major banks to publish its half-year results, with Lloyds Banking Group, Royal Bank of Scotland and Barclays all reporting this week.