Apple overtakes Nokia and Samsung as smartphone maker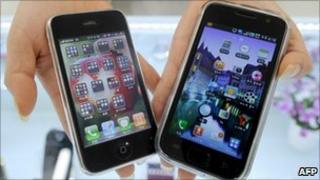 Apple has become the world's biggest seller of smartphones, according to industry analysts.
The US firm overtook both previous leader Nokia and Samsung in the second quarter of the year, when total smartphone sales hit a record 110m.
The figures from Strategy Analytics also showed that 361m handsets were shipped, up 13% on the previous year.
Nokia remained the biggest seller of all types of handsets, but the numbers shipped and its market share fell.
It shipped 20% fewer handsets in the second quarter - 88.5 million.
The Finnish firm's market share dipped to 25% - its lowest level since 1999.
'Star'
The report describes Apple as the "star performer" during the quarter, more than doubling its handset shipments to a record 20.3 million units.
However, its share of the overall market was 6%, making it the world's fourth biggest mobile phone seller behind Nokia, Samsung and LG.
Samsung shipped 74 million units, rising 16% from 63.8 million in the quarter a year earlier.
The company's market share rose to just above 20%, and Samsung is now "breathing down Nokia's neck", the report said.
Strategy Analytics said Nokia was plagued by problems.
"An unexciting touchphone portfolio, inventory corrections in Asia and Western Europe, wavering demand for the Symbian platform and limited presence in the huge US market continue to weigh on Nokia's near-term performance," the report said.
Third-placed LG shipped 24.8 million handsets during the three months, with volumes down 19% from a year earlier.
China-based ZTE shipped 18 million handsets, giving it a global market share of 5%.
Separately, Taiwan's HTC said it had shipped 12m handsets in the second quarter of the year, helping its profits double to 17.5 billion Taiwan dollars ($607m; £372m).