Nintendo shares tumble 13% after company reports a loss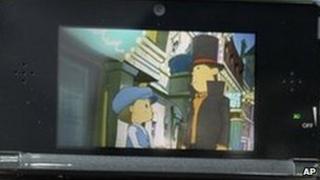 Shares in Nintendo have tumbled on the Tokyo stock exchange a day after the company announced a loss in the first quarter.
The shares closed down 13%, having fallen as much as 20%, on news of the worse-than-expected profits figures.
On Thursday, Nintendo reported a net loss of 25.5bn yen ($324m, £201m) for the April-to-June quarter, its first-ever quarterly loss.
The company also cut its full-year profit forecast.
Nintendo said it now expects a net profit of 20bn yen for the year to March 2012, down 82% from its previous projection.
'Underweight'
Nintendo earnings were hit by weak sales of its new gadget, the handheld 3DS console.
In an attempt to boost sales the company has announced huge price cuts.
The price in Japan will be about 40% less - retailing at 15,000 yen. In the US, the price will drop next month to $169.99 from $249.99.
However, analysts said the price cut may hurt the company's earnings even further.
"The timing of the 3DS hardware price cut is surprising, given the major in-house software releases," said Hiroshi Kamide of JP Morgan.
"We believe the 3DS will be a heavy weight on earnings over the medium term," he added.
JP Morgan also cut its rating on Nintendo from "overweight" to "underweight," saying the current situation was worse than feared and the outlook uncertain.
Tired customers?
To make matters worse for the gaming giant, industry watchers say sales of the 3DS are unlikely to turn around anytime soon.
"Software is a big problem. Right now there are not many games available for the 3DS," said David Abrams, of CAGCast Video Game.
Mr Abrams added that while the 3DS has had a lukewarm response, smartphones continue to capture an increasing share of the gaming market.
He said easy availability of games and their low cost meant more and more people were preferring smartphones over specialised gadgets.
"The question is, are people willing to spend a premium to play the next Mario game or would they spend that amount to buy close to 40 games on their smartphones," he said
Mr Abrams added that despite the launch of its latest version, the DS gadget has been losing its charm.
"The reality is that people may be tired of the whole DS concept. It has been around for almost seven years," he said.
"May be its not that exciting to people anymore," he added.