Bernard Madoff victims get another $1bn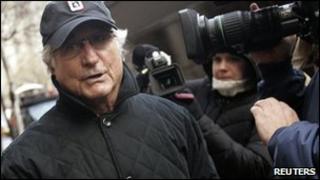 A trustee charged with recovering money for victims of Bernard Madoff's massive fraud scheme says he has secured more than $1bn (£610m) from investment funds which placed money with the fraudster.
Irving Pickering said the total money recovered now stands at $8.6bn.
Among those funds that settled was New York-based Tremont Group, regarded as a feeder fund for Madoff.
Madoff is serving 150 years in jail in the US for a $65bn fraud which hit thousands of investors' savings.
The so-called Ponzi scheme used new members' money rather than profits to pay returns to existing investors.
The scheme had been running since the early 1990s.
It unravelled when Madoff's investors, hit by the economic downturn, tried to withdraw about $7bn, but he could not produce the money.