Public sector pensions: Contributions to rise by £1.1bn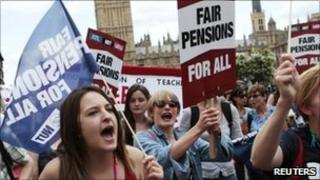 More than two million public service employees have been told they will pay £1.1bn in extra contributions from April 2012, under government plans.
The payments form part of coalition plans to reduce its pensions bill.
Unions expressed anger about the timing of the latest announcement, accusing the government of undermining talks on the future of public sector pensions.
However, Chancellor George Osborne said the plans were a good deal for both the public sector and taxpayers.
NHS workers, teachers and civil servants will have to pay extra money into their pensions as the government looks to shave £1.2bn off its pension bill next year.
Under the plans, the maximum rise will be 2.4 percentage points.
The increases are the first of three consecutive annual increases being planned by the government.
Anger
Unions expressed anger at the announcement.
"These talks are being put in jeopardy by the crude and naive tactics of government ministers who do not seem to understand the word negotiate," said Dave Prentis, general secretary of Unison.
Mark Serwotka, general secretary of the Public and Commercial Services Union which staged a walkout in June, said the proposals "made a mockery" of the ongoing talks.
"These highly detailed proposals show that the government has made its mind up and is not negotiating seriously," he said.
But Chancellor George Osborne defended the plans.
"They are a good deal for teachers, nurses and police officers, because they are going to get one of the best pensions you can get in our country, but it is also fair to taxpayers," he said.
"I think the trade unions and the government can work together on this and I certainly do not think it is a reason for anyone to go on strike."
The coalition also said pension contributions needed to rise as life expectancy continues to increase.
Burden shifted
The initial proposals affect 2.5 million people at first: NHS workers and teachers in England and Wales, and civil servants in England, Scotland and Wales.
Similar plans are in the offing for firefighters and the police, and possibly for local government staff as well.
The Fire Brigades Union said it was making preliminary arrangements for a strike ballot, warning that industrial action looked "increasingly likely" in the autumn.
The government has estimated that 750,000 of the NHS, civil service and teaching staff earning less than £15,000 a year will not pay any extra contributions at all.
And many staff will now be asked to make smaller increases in their contributions than first thought.
In general it has been proposed that people earning between £15,000 and £21,000 (up from the previously suggested limit of £18,000) will pay 0.6 percentage points more from next April.
However, in two of the schemes for which detailed proposals have now been published, this aspect has been watered down.
For teachers, the Department for Education, in its consultation response, has proposed that the 0.6 percentage point rise should apply to salaries up to £26,000.
This is designed to deter younger, newly-qualified, teachers from leaving the scheme.
Russell Hobby, general secretary of the National Association of Head Teachers (NAHT) said: "The government had made up its mind a long time ago to raid the teachers pension scheme. We now have the privilege of commenting on how efficiently it plans to do so."
For the NHS scheme, the 0.6 percentage point rise will apply to those earning up to £26,557.
This means the burden of raising the extra contributions in these two schemes has been shifted towards higher paid staff.
Maximum contributions
The government wants those on higher levels of pay to contribute up to 2.4 percentage points more in 2012-13.
This, for example, would take the total contribution to a maximum of 5.9% for civil servants earning more than £60,000.
The highest paid NHS staff, such as doctors, now face a maximum contribution rate of 10.9% once they earn at least £110,273.
The highest paid teachers would pay a maximum 8.8% of their salaries into their scheme once they earn £112,000.
The additional contribution rates for civil servants, which have also been published, kick in at significantly lower salary levels than for teachers and NHS staff.
For example, at a salary of £30,000, teachers will pay additional contributions of 0.9 percentage points, but civil servants will face additional contributions of 1.6 percentage points.
However, civil servants' existing contribution rates are generally low in comparison.
Proposed increases in pension contributions

NHS
Teachers
Civil servants
Annual salary
Now
From 2012
Annual salary
Now
From 2012
Annual salary
Now*
From 2012*
Average pension £7,000
Average pension £10,000
Average pension £6,200

Source: Cabinet Office, Department of Health, Department for Education

*Lower figure is for classic pension scheme and the higher figure for other schemes

Up to £15,000

5.00%

5.00%

Up to £14,999

6.4%

6.4%

Up to £15,000

1.5% - 3.5%

1.5% - 3.5%

£15,001 - £21,175

5.00%

5.60%

£15,000 - £25,999

6.4%

7.0%

£15,001 - £21,000

1.5% - 3.5%

2.1% - 4.1%

£21,176 - £26,557

6.50%

7.14%

£26,000 - £31,999

6.4%

7.3%

£21,001 - £30,000

1.5% - 3.5%

2.7% - 4.7%

£26,558 - £48,982

6.50%

7.69%

£32,000 - £39,999

6.4%

7.6%

£30,001 - £50,000

1.5% - 3.5%

3.1% - 5.1%

£48,983 - £69,931

6.50%

8.48%

£40,000 - £74,999

6.4%

8.0%

£50,001 - £60,000

1.5% - 3.5%

3.5% - 5.5%

£69,932 - £110,273

7.50%

9.85%

£75,000 - £111,999

6.4%

8.4%

Over £60,000

1.5% - 3.5%

3.9% - 5.9%

Over £110,273

8.50%

10.90%

Over £112,000

6.4%

8.8%
More to come
The Treasury said that in the next financial year the proposals would save £530m in the NHS pension scheme, around £300m from the teachers' scheme and £180m in the civil service scheme.
The government is trying to implement the recommendations of Lord Hutton, the former Labour pensions minister.
His review of the public sector pension schemes, completed earlier this year, recommended higher contributions and the wholesale conversion of existing schemes from final-salary to career-average structures.
Chief Secretary to the Treasury Danny Alexander said the details of April's rising contribution rates would be subject to 12 weeks of consultation, and added that they ensured that the government's contributions would be kept under control.
"These are difficult times for everyone - public sector workers included. We are ensuring that those with the broadest shoulders will bear the greatest burden," he said.
However, the union representing senior civil servants said the plans for contributions were "completely unjustified".
"These negotiations will be complex and difficult. However, if we are not able to reach agreement then industrial action is possible," said Jonathan Baume, the general secretary of the FDA union.
Labour said that leaking the information to newspapers before the official announcement could affect the outcome of those talks.
"By once again acting in a rash and irresponsible manner ministers seem to be more interested in provoking confrontation with public sector workers than sensible negotiation," said Angela Eagle, shadow chief secretary to the Treasury.
"Making arbitrary announcements through the newspapers in the middle of talks with the trade unions will do nothing to avoid the industrial action nobody wants to see."