BT profits boosted by broadband sales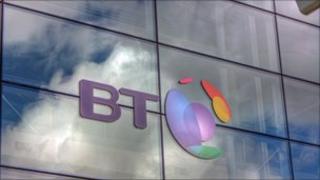 Telecoms and media group BT has reported a rise in its first quarter profits, helped by increased demand for home broadband products.
Profits before tax for the three months to 30 June were up 20% to £533m.
Some 251,000 new customers signed up to broadband providers who use BT's network during the period.
Of those, BT said 59% went with its own offering. Other companies such as Sky and TalkTalk also provide broadband using the network.
It helped BT Retail to increase profits by 4% to £344m. Average revenues per customer rose by £4 to £330 a year due to the increased take-up of broadband services.
Outside the UK, the BT signed its largest ever deal in Latin America with the Brazilian post office. It meant BT's Global Services division made a reduced loss of £37m.