Vince Cable vows to simplify retail rules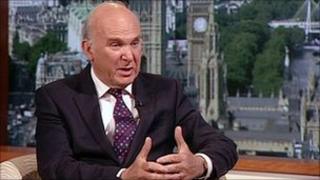 The government is to scrap or simplify more than half of all regulations that affect retailers, as part of its efforts to cut red tape.
Business Secretary Vince Cable said 130 out of the 257 regulations covering retail firms would be scrapped, and a further 30 would be simplified.
Ministers began an initiative this year to eventually scrutinise all of the 21,000 regulations across UK industry.
The Federation of Small Businesses backed the bid to cut bureaucracy.
However, businesses have said the government should address "big regulatory burdens", like flexible working and shared parental leave, which will have a far greater impact than the rules that are set to be scrapped.
Ministers hope their move will free the public and businesses from rules that are unnecessarily burdensome, overly bureaucratic or simply redundant.
Regulations considered to be "ridiculous" by the business secretary include alcohol licences to sell chocolate liqueurs.
Redundant legislation such as the wartime Trading With The Enemy Act, and rules around the safety of pencils and prams are among regulations to be abolished.
'No tangible impact'
And the age limit for buying Christmas crackers will be reduced from 16 to the European minimum of 12.
The requirement on retailers to notify TV Licensing about sales of televisions will be scrapped and rules on the sale of car tyres will be simplified.
Mr Cable said: "We have struck a balance between keeping regulations necessary to protect consumers, the workforce and the environment, while rolling back the number of rules and regulations our businesses have to deal with".
John Walker, chairman of the Federation of Small Businesses, said: "We welcome the announcement to cut red tape in the retail sector as the start of an effort to look more broadly at regulation in all areas, but we urge the government to deal with the big regulatory burdens as well as tinkering with the smaller ones."
He added that some of the cuts being announced will have "no tangible impact on small firms at all as they are outdated and unused anyway".
These sentiments were echoed by David Frost, director general of the British Chambers of Commerce.
He said Mr Cable was "right that regulation is too often crippling small and medium-sized businesses seeking to grow, and create jobs" but he queried how "incremental changes" will "deliver real change on the ground at a time when the government is introducing more big ticket regulation".