Jayawardene hails epic Sri Lanka anti-cancer walk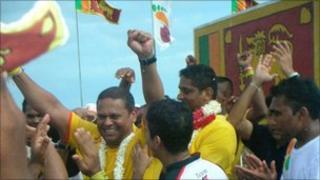 The Sri Lankan cricket star Mahela Jayawardene has paid tribute to his compatriots' generosity in donating funds for a cancer project in the north of the country.
He was speaking to the BBC from Jaffna after laying the foundation stone for a children's cancer ward in the town's main hospital.
Jayawardene took part in two separate days of a 27-day sponsored trek from the southern tip of Sri Lanka to its northernmost extremity, Point Pedro, devoted to the project - a distance of 670km (416 miles).
The former national captain said that when he was walking near Kurunegala in central Sri Lanka a six-year-old boy came out of a little house to hand over a tin of coins he had saved.
"It made my day," said Jayawardene.
"A lot of people have not seen the quality of Sri Lankans. Huge funds were raised in the south to build a hospital in the north.
"If that generation can heal our wounds, we'll be the happiest."
'Humbling experience'
He said that in the last few days of the trek Tamil people in the humblest homes had given 100 or so rupees (just under $1) and the fund-raisers felt almost guilty for accepting it.
Jayawardene's brother, Dishal, died of a brain tumour 15 years ago and the cricketer says he "will be involved in cancer projects till I die".
The cause is also dear to one of the two men behind the sponsored walk, Nathan Sivagananathan, who lost his sister to the disease.
He and his colleague in a large textiles firm, Sarinda Unamboowe, did the whole trek, starting on 1 July at the Dondra Head lighthouse and finishing on Wednesday.
They encouraged members of the public to join them. Thirteen others also did the whole walk and an impressive 25,000 walked for a section.
They included other cricketers such as TM Dilshan, Kumar Sangakkara, Angelo Mathews and Dilhara Fernando.
"It's been amazing, humbling, a great experience," Nathan told the BBC, nursing numerous injuries.
"It's been 670km of pain, blisters and skin splints. We're not athletes!" he said.
"But overall it was an amazing journey. People who had no means of being generous, were generous."
He hit on the idea of seeking sponsorship for every kilo he lost in weight. He says some people promised $1,000 per kilo - and as he thinks he has lost 15kg, that means a lot more money for the hospital.
"It was the most incredible experience in my life," Sarinda Unamboowe told the BBC. He said that even in sparsely populated places people emerged from banks, rotary clubs and schools to donate.
They had no need to camp as originally planned because many hotels and guest-houses offered them free rooms.
So far the venture has raised $1.25m (£766,000). The required target is $2m (£1.22m)