Cyprus debt rating cut by Moody's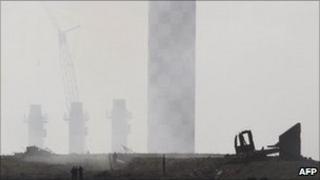 Cyprus may be the latest EU country to find it harder to borrow money after its credit rating was cut.
Moody's said it had cut Cyprus's credit rating by two notches, from A2 to Baa1, and warned it may downgrade it further.
It increases the chance that Cyprus may become the latest country to require an EU bailout.
Cyprus is trying to reform its finances but has suffered power shortages since an explosion at a power plant, while its banks hold significant Greek debt.
The ratings agency also cut its growth forecast for Cyprus to zero for this year and 1% next year.
Moody's is one of three credit ratings agencies which monitor the finances of countries and companies.
The credit rating reflects the riskiness of lending to that country and tends to move down in stages from AAA to so-called "junk" status, at which point it is assumed most of the debt will not be paid back. Cyprus is still above this level.
Fitch and Standard and Poor's have also downgraded Cyprus this year, but both currently rate the country more highly at A-.
Moody's warned that it would lower the rating further if Cyprus did not pass planned financial reforms.
"The Baa1 rating does incorporate an assumption that something resembling those reforms does eventually get legislated and implemented," the firm said in a statement.
Power cuts
The Cypriot economy has suffered from rolling power cuts since the main power plant on the island was destroyed earlier this month.
The Vassilikos plant was blown up on 11 July, when a cargo of confiscated Iranian munitions stored in a military base several hundred metres away exploded.
The Cypriot banking sector is also a concern to analysts as it holds between 4.5 and 5bn euros ($6.4-7bn; £4-4.4bn) of Greek debt.
"Overall, just under 40% of the total loans extended by the three largest domestic Cypriot Banks are to customers based in Greece," said Moody's.
The downgrade comes after a number of parties accused the minority government of backtracking on planned financial reforms and austerity measures on Tuesday.