Santander profits hit by PPI mis-selling costs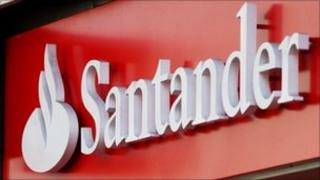 Santander has set aside 620m euros (£548m) to cover the costs of mis-selling payment protection insurance (PPI) in the UK.
The Spanish bank is the latest to outline the one-off amount to cover the cost of compensation for mis-selling the loan insurance.
Lloyds Banking Group set aside £3.2bn to cover the cost of this compensation, followed by Barclays (£1bn), RBS (£850m) and HSBC (£269m).
The move hit Santander's profits.
The UK arm of the bank - which includes the Abbey, Alliance and Leicester and Bradford and Bingley brands - saw pre-tax profits dip 3% to £1.2bn in the six months to June.
The parent company Banco Santander reported a first-half net profit of 3.5 billion euros, down 21%.
Legal wrangle
PPI is supposed to cover loan repayments if someone becomes ill or loses their job, but it has emerged that many of the policies sold by the banks were mis-sold.
In April, the banking industry lost its High Court challenge to new rules on the sale of PPI.
Among other things, the rules require sellers of PPI polices to review all their past sales to see if their customers have a claim for mis-selling, whether or not they have actually complained.
While the legal case was going on the banks put on hold tens of thousands of fresh PPI complaints that came in.
Santander was second, behind Barclays, in the list of most complained-about financial institutions during the second half of 2010.
The data, compiled by the City watchdog - the Financial Services Authority - was driven, in part, by PPI complaints.
Santander chief executive Ana Botin said the bank had taken significant steps to improve customer service.
Earlier in July, Santander said it had brought its call centres back to the UK from India following complaints.
"In line with other UK banks, a further provision for payment protection insurance remediation has also been made," Ms Botin said.
"Notwithstanding these factors, Santander UK has delivered profit in the first six months, maintaining its strong track record of profitability and strengthening its balance sheet."