Pay is key reason for changing jobs, says CIPD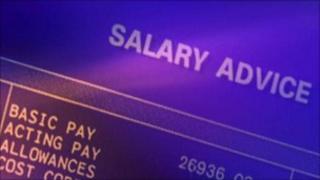 The prospect of better pay has overtaken job satisfaction as the main reason for moving to another job, a survey suggests.
Just over half of the 2,000 people surveyed by the Chartered Institute of Personnel and Development (CIPD) said a rise in wages and benefits was the key reason for changing employer.
In the same poll a year ago, job satisfaction was the main reason.
That is second on the list in this year's survey.
"Employees are feeling the squeeze as a result of pay freezes or low pay settlements that fail to keep up with inflation," said Ben Willmott, from the CIPD.
"Besides being more likely to want to leave for more pay elsewhere, workers with financial difficulties are also more likely to report being under stress at work and are typically less satisfied with their jobs.
"It is, therefore, in employers' interests to support employees in tough times through ensuring line managers are equipped with effective people management skills and by providing advice and support on debt management and financial planning."