Merck KGaA cuts profit forecast for 2011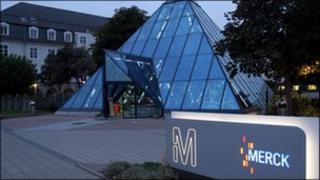 German drugs and chemicals firm Merck KGaA has cut its profit forecast for the year after its second-quarter earnings were hit by one-off charges.
Merck faced integration costs related to its two major acquisitions Serono and Millipore, as well as impairment losses related to some drugs and a writedown in the value of some patents.
It now expects an operating profit of 1bn euros ($1.45bn; £880m) for 2011.
In April, it had aimed for a 35-45% rise on last year's 1.1bn euro profit.
'Healthy base'
Merck reported an operating loss of 11.4bn euros for the three months to June, compared with a profit of 326.2m euros a year earlier.
It made a net loss of 85.9m euros in the quarter, against a 183.4m-euro net profit in the second quarter of 2010.
"While a series of one-time charges adversely affected this quarter's profits, this will give us a healthy basis on which our new management team can build," said Dr Karl-Ludwig Kley, Merck chairman.
While it now expects a 1bn-euro operating profit, it said that, excluding one-off items, the figure would rise to 1.4bn euros.
Merck shares were down 5.6% in early Frankfurt trading.