George Soros to return funds from outside investors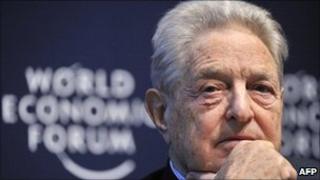 Billionaire investor George Soros will only manage his own family's money in future due to the impact of new US regulations on hedge funds, his sons have said.
His fund will return around $1bn (£625m) to outside investors, leaving it with around $24bn.
Under the new Dodd-Frank Act, hedge funds will have to register with financial regulators.
But family funds have some exemptions under new rules.
George Soros is not the first fund manager to return outside investors' money.
Stanley Druckenmiller, Soros' former deputy, Chris Shumway and Carl Icahn have all done so.
The return of funds will not have a significant impact on the size of Soros' fund, or on its already small staff, although Keith Anderson, Soros' chief investment officer since 2008, will leave the company.
'Unfortunate'
The fund has mostly handled family money since 2000.
Reports suggest Mr Soros feels it is not worthwhile going through the expense and time of registering under the new regulations.
"An unfortunate consequence of these new circumstances is that we will no longer be able to manage assets for anyone other than a family client, as defined under the regulations," George Soros' sons, Jonathan and Robert Soros, said in a statement.
Mr Soros made his name with a $1bn dollar bet against the pound in 1992 during the British exit from the European Exchange Rate Mechanism.
He became known for generating 20% returns a year on his investments - though his fund has suffered in the past year.
Freedom
Mr Soros has also gained a reputation in the US for his philanthropy and support of liberal causes, giving away billions of dollars.
It is unclear whether Mr Soros intends to keep investing or to focus entirely on his philanthropic work.
Avoiding outside partners may make it easier for him to take big bets to fund his philanthropy in future.
"You may have to short the dollar or do other things that are considered un-patriotic, and making those bets may be easier without having limited partners calling up to complain," said Charles Gradante, co-founder of Hennessee Group which invests with large hedge funds but does not currently have funds with Mr Soros.
Some analysts are worried that the regulations are causing top investors to pull back from the industry.
"If top money managers are closing shop because of overly onerous regulations, then this will ultimately be to the detriment of our institutional investors," said Jim Liew from NYU's Stern School of Business.
However, most fund managers who have returned money to outsiders have continued to invest actively.