Can 'no frills' work for longer flights?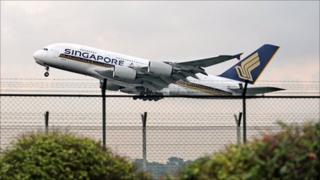 While it's common to pay a cheap fare for a short flight to a holiday destination, the thought of forgoing leg room, hot meals and other "frills" for more than a few hours may not sound as appealing.
Yet some airlines are trying to bring the successful short-haul budget model to longer flights, with the latest entrant in South East Asia being Singapore Airlines (SIA).
Whether this model will work is one of the hot debates raging in the world of aviation.
Aggressive expansion
The move towards low-cost airlines in Asia has picked up pace in recent months, with a number of full service airlines trying to attract frugal flyers.
Earlier this year, Japan's All Nippon Airways (ANA) launched Peach Aviation, a short-haul low-cost carrier based in Osaka.
It is expected to start flights in March 2012. A Thai Airways budget airline is also expected late next year.
The trend coincides with a forecast of a rise in air travel globally, lead by the Asia Pacific region.
The International Air Transport Association (Iata) estimates that by 2014 there will be 3.3 billion more air passenger journeys across all regions, up 800 million from 2009.
Of that 800 million, 45% will travel on Asia Pacific routes.
And budget airlines look set to capture the lion's share of that passenger growth.
Singapore-based low-cost Jetstar Asia increased its passenger numbers by 44% (from 1.8 million to 2.6 million) last year, whereas Singapore Airlines increased passengers by 1.8% (from 16.6 million from 16.3 million), according to Aviation Week, an industry publication.
And to facilitate all those extra passengers, budget carriers are racing to expand their fleets.
At the Paris Air show in June, India's Indigo placed an order for 180 new aircraft from Airbus.
Malaysia-based budget carrier Air Asia trumped that with a record purchase of 200 Airbus A320neo jets at a list price of $18bn (£11bn).
"Aviation is far from reaching a saturation point in Asia," according to Tony Fernandes, group chief executive of Air Asia. "There is definitely space for new players and for the expansion of existing ones."
In the case of Air Asia, that expansion is well under way.
It recently announced a partnership with ANA to start a budget airline in Japan called Air Asia Japan, to be based out of Narita Airport, near Tokyo.
It has similar joint ventures in south-east Asia, including Thailand, the Philippines and Vietnam.
As low-cost carriers expand, they are setting their sights further and further.
Complexity
Singapore Airlines is not the first to envision low fares on longer routes.
Air Asia already has a long-haul budget airlines called Air Asia X which flies to London and Paris from Kuala Lumpur.
But to be profitable while offering cheap flights on longer distances is no easy task.
Oasis, which used to fly from Hong Kong to London at low prices, went into liquidation and ceased operation in 2008, a mere 18 months after it was established.
"The [long-haul] business structure has an unproven track record, whereas short-haul has been successful," says Mark Webb, aviation analyst for HSBC in Hong Kong.
Mr Webb says the ways in which budget carriers save on costs on short-haul routes are largely not applicable for airlines on longer routes.
He says meal services and in-flight entertainment are examples of features that cannot be sacrificed on longer flights.
"Even if you charge for in-flight entertainment and food, you still need to provide those services and that adds complexity to your business model," he says.
The flights will also be less frequent, which means costs cannot be spread out over many flights back and forth each day - something short-haul carriers are able to do.
And then there is the added expense of keeping staff overnight at a destination.
Land grab?
But others say there is enough demand and that people are willing to put up with no frills on flights that are between five and eight hours long.
"[From Singapore] to Tokyo, Beijing, Shanghai and many destination in India, that will work," says Leithen Francis, Asia editor for Aviation Week.
"We're not really talking about long-haul, we're talking about the next step beyond short-haul. But going that extra distance, you open up a whole lot of new markets."
That would allow Singapore Airlines to attract price conscious consumers such as students, pensioners, backpackers and small businesses.
But profitability aside, it is also about marking your territory.
"Another reason for setting up low-cost carriers is for defensive reasons, to stop an aggressive competitor from getting those routes," says Mark Webb.
"The key to success in low-cost carriers is route dominance," he adds.
Singapore Airlines is confident the long-haul budget airline will make them money.
"The decision to launch this new airline came after a lot of review and analysis," says spokesman Nicholas Ionides. "We wouldn't be getting into this business if we didn't think it could be profitable for the SIA group."
The airlines' shifting focus towards its investment in the budget carrier sector is underlined by its involvement in the grounding of Tiger Airways.
Australian authorities grounded Tiger Airways' entire fleet in Australia this month on safety concerns. SIA owns more than 30% of the low-cost carrier.
And although SIA insists it is not involved in the management of Tiger Airways, immediately after the grounding Chin Yau Seng, the former chief executive of SIA's regional carrier Silk Air, was appointed as Tiger Airways' acting chief executive officer.
The way SIA handled the recent troubles facing Tiger Airways shows the growing importance of budget carriers in the Asian skies.