South Korea and India sign nuclear deal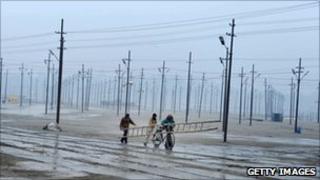 South Korea's ambitions to enter the Indian energy market have received a big boost as the two countries signed a civil nuclear deal.
The agreement will allow South Korea to export its nuclear energy technology to India.
The deal comes at a time when India has been struggling to keep up its energy supply to meet the increased demand in wake of its rapid expansion.
South Korea is the ninth country to sign a nuclear deal with India.
"We look forward to the Republic of Korea becoming one more partner in the development of civil nuclear energy in India," said Sanjay Singh, Secretary (East), Ministry of External Affairs, India.
Win-win situation?
India's atomic energy market is estimated to be around $150bn (£97bn).
Last year India's lower house of parliament approved a law opening up the nuclear energy market to private investment.
It allowed foreign firms to build reactors as the country looks to increase its dependence on nuclear energy.
India is planning to set up some 30 reactors over as many years and get a quarter of its electricity from nuclear energy by 2050.
While the nuclear energy market in India is emerging, South Korea has seen the sector develop rapidly over the years.
Its nuclear plants supply almost one-third of the country's electricity.
Analysts said that as India looks to expand its nuclear energy market and Korea seeks to export its technology, the pact could benefit both nations in the long-run.
"South Korea has a lot of technology in energy infrastructure which they can help India with," said Rajiv Biswas of IHS Global Insight.
"It also recognises India as a key future market. This is a very big opportunity for them to expand into the emerging economies.
"All in all, it is a very positive deal for both the nations," he added.