Baidu's profits surge as advertising revenue grows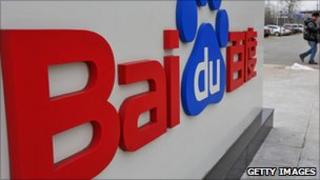 China's internet search engine Baidu has once again beaten forecasts as it reported a 95% surge in profits for the second quarter.
The company said it made a profit of 1.63bn yuan ($253m; £155m) in the three months to June, compared with earnings of 837m yuan during the same period last year.
Baidu said that its revenue for the period surged by 78% to $528m.
The company said its numbers were boosted by increased advertising sales.
"We benefited from strong traffic growth and improved monetization," said Robin Li, chairman and chief executive officer of Baidu.
"We were especially encouraged with the strong spending from large clients," he added.
Diversification
Baidu has grown to become China's number one search engine with a near-75% market share of the world's largest internet market.
Analysts said that the sector is poised for further growth.
"The search market is growing very strongly. It's a rising tide," said Mayiresh Masurekar of Collins Stewart.
While its search engine business has been growing, Baidu has also been expanding its presence in other areas.
Last month Baidu invested $306m to acquire a majority stake in Qunar, one of China's oldest and biggest online travel websites.
Earlier this month, the company signed a deal with leading music labels allowing it to distribute music through its mp3 search service.
Mr Masurekar of Collins Stewart said the diversification is helping Baidu strengthen its position even further.
"Baidu has a lot of irons in the fire. It has a lot of non-search initiatives," he said.
Growth potential
Given the robust numbers and the increased spending by its major customers, Baidu said it was confident that it will continue to grow at a good pace.
"I am confident that Baidu's emphasis on innovation and execution will help us continue to attract and retain users and customers," said Mr Li.
Baidu expects its revenue for the the three months to September to surge by as much as 79.5%.
The company forecasts revenue to be between $611m to $626.6m for the third quarter.
Jennifer Li, Baidu's chief financial officer, said the company will increase its spending in key areas, as it looks to strengthen its market hold and maintains its rapid pace of growth.
"We are will continue to accelerate our investments in strategic areas, R&D, network infrastructure and bringing in new talents on board to drive long term growth," she said.