Reliance Industries reports record profit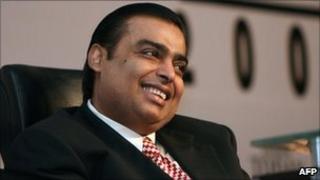 India's largest listed company - Reliance Industries - has reported record quarterly profits.
Net profits for the April-to-June quarter were up 16.7% from a year ago to 56.61bn rupees ($1.28bn, £0.8bn).
However, the figures were lower than some analysts had expected because of reduced oil and gas production.
On Friday, India's cabinet approved a plan from Reliance to sell a 30% stake in 20 of its oil and gas blocks to BP in a $7.2bn deal.
Falling production
Fears about declining gas production have contributed to a 16% fall in the value of Reliance's shares since the start of the year.
In May, India's oil and gas regulator said Reliance was producing 48 million standard cubic metres of gas per day of gas from its largest field.
That is less than the firm produced last year and almost half its planned peak capacity.
Instead the increased profits came largely from better margins in its refining operations. The company operates the world's biggest oil refining complex in Western India.
Some analysts say it means the company will be increasingly dependent on how much it can charge for its refining operations in future.
"Profitability from now on will largely be a function of the petrochemicals and refining margins," said Deepak Pareek, an oil analyst at Prabhudas Lilladher.
The company also has a large presence in the retail sector and plans to expand into communications and financial services.
Reliance is controlled by Mukesh Ambani who has become the world's ninth-richest man.