Ryanair predicts up to 12% rise in average fares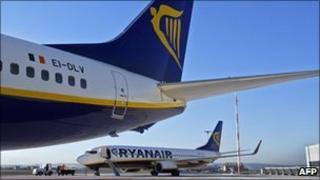 Ryanair has said that its fares will rise by an average of up to 12% in the year to the end of March 2012 as fuel prices rise.
The Irish budget airline has already bought 90% of its fuel for this year, at a price 18% above last year's, but below current prices.
It has reported that pre-tax profits for the three months to the end of June came in at 156.6m euros ($225m; £138m), up 50% from the same period last year.
Passenger numbers rose 18% to 18m.
Ryanair boss Michael O'Leary said the traffic figures had been flattered by the "unnecessary airspace closures" due to the ash cloud from a volcano in Iceland in the same period of 2010.
"Significantly higher revenues were largely offset by higher operating costs as fuel rose 49%," he added.
Ryanair has already announced plans to cut its winter capacity as a result of higher fuel costs.
"We are passing those higher prices on to consumers with a slight increase in fares, however fares are still lower than they were in 2007," Ryanair deputy chief executive Howard Miller told BBC News.
It maintained its forecast for profits after tax in the full year at 400m euros.
Last week, rival budget airline Easyjet raised its profit forecast for the year, saying its new strategy, which includes appealing to more business customers, was seeing "good progress".
Its passenger numbers increased by 17.3%, which was close to Ryanair's 18% growth.