BHP says Chile strike 'illegal' as stand-off continues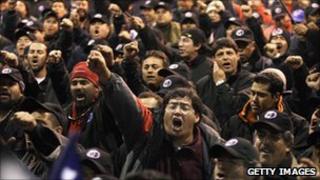 BHP Billiton has called the strike at the Escondida copper mine in Chile 'illegal', as the stand-off between the company and the miners continued.
Workers at the Escondida mine have gone on an indefinite strike, demanding bonuses linked to company's earnings.
The strike comes as surging commodity prices and increased demand have seen mining companies make hefty profits in recent years.
Escondida is the world's largest copper mine.
The strike was initially meant to be a one-day work stoppage. However, the miners voted to extend it to an indefinite one, until their demands are met.
BHP said it had offered discretionary bonuses to its employees, which had been rejected by the workers' union.
"The company is implementing an action plan to ensure the safety of its workforce and the integrity of its operations," BHP said in an emailed statement.
Limiting damage?
The last time workers at the Escondida mine went on strike in 2006, the impasse continued for almost a month.
That had a huge impact on BHP's production numbers. It reported a 19% drop in Copper output during the third quarter of 2006.
The current strike is expected to cause a production loss of as much as 3,000 tonnes a day, according to some estimates.
While the two parties continue to stick to their positions, analysts said that BHP is not likely to let the strike continue for a long period.
"It is in their best interest to keep the mine producing, even if the cash costs rise in the short term," said David Lennox a mining and resources analyst with research firm Fat Prophets.
However, Mr Lennox warned that if an amicable solution is not reached soon, it could hurt BHP.
"We will see quite a dip in copper output. They are already struggling with copper production in other mines," he said.
Last week BHP reported that its copper production in the three months to June had dipped 6%, compared with the same period last year.
Mr Lennox added that a drop in copper production will have an impact on prices.
"We will start to see a little bit of nervousness in copper price as the market heads towards a period of supply constraints," Mr Lennox said.
"The longer the strike lasts, the more the nervousness will spread," he added.