Low rates on children's accounts 'discouraging saving'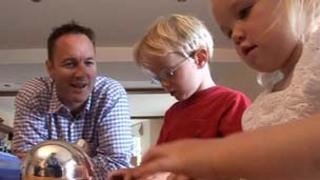 Consumer group Which? says some of the interest rates offered on children's savings accounts are discouraging parents from investing in their futures.
Its survey shows that on average children's instant access savings accounts offer rates of just 1.1%, and as low as 0.05%.
The worst rate uncovered was for First Trust Bank's Junior Saver Account.
First Trust said it was now reviewing the account.
It added that a new pricing structure would be communicated to customers in the coming weeks.
Which? wants more banks to follow suit and review their rates.
'Poor rates'
The survey found that accounts affiliated to football clubs also pay some of the lowest rates to young savers.
Manchester United and Chelsea's young saving schemes offer just 0.25%, while Derby County's Junior Rams account pays 0.1%. That's a thirtieth of the return available with Northern Rock's Little Rock account, which pays 3%.
Which? also said it expect interest rates for child trust funds to plummet when they are replaced by junior ISAs (individual savings accounts) in November this year.
James Daley, Editor of Which? Money, said: "It's really important that children are encouraged to save, but it's a real disincentive when there are such poor rates on offer.
"We think the situation may get worse unless the government allows transfers from child trust funds [CTFs] to junior ISAs as we foresee that rates for CTFs will decline as providers concentrate their efforts on the new market for junior ISAs."
The Financial Secretary to the Treasury, Mark Hoban MP, says the very fact that junior ISAs were introduced shows the government is committed to improving the UK's savings culture.
"Junior ISAs will be a great example of a simple, clear and tax-free account that allows families to save and invest for their children's future," he said.
The Treasury has indicated there may be more announcements on this soon, and it's expected that tax free savings limits may rise for both the old child trust funds and the new junior ISAs.
'No incentive'
It's not the tax free limits, but the poor rates of return on offer that are a topic of conversation on the Mumsnet forum.
''Even with budgets so tight, parents do want to teach children value of savings," said Mumsnet chief executive Justine Roberts.
"They may have very small amounts of money, perhaps its birthday money or money from their grandparents, but the rates don't incentivise them to save at all.''
There are a few good deals around for children's regular saving accounts. One from the Halifax pays 6%, but the money can't be withdrawn during the year, and after the 12 months the money is moved into another account.
So, instead of locking money away in a bank to secure a reasonable return, for some families that old fashioned piggy bank might still prove the best way of teaching children how to save for a rainy day.