UK cuts interest rate on Republic of Ireland loan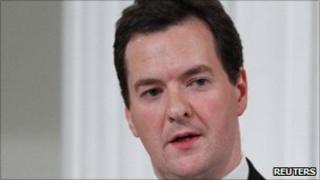 The UK has cut the rate of interest on the £3.26bn loan it gave to the Republic of Ireland last year.
It comes after eurozone ministers agreed to reduce the rates Ireland, Greece and Portugal pay on their European Union-led bail-outs.
The UK gave its loan to Ireland late last year, at the same time as the EU and International Monetary Fund agreed to support the country.
The UK has trimmed the rate on the loan from 5.8% to 3.5%.
This is broadly in line with the reduction in interest Ireland will now have to pay for the EU bail-out funds.
Chancellor George Osborne said: "I've been arguing for some time that the interest rates charged for eurozone loans were too high.
"I'm pleased therefore they have now reduced those rates.
"That enables Britain to cut its rate on its loan to Ireland, while ensuring all of the benefit goes to Ireland and not to higher interest rates paid to euro area governments."
Mr Osborne added that the UK would "still be more than covering the cost of our borrowing".