Greene King to buy Capital Pub Company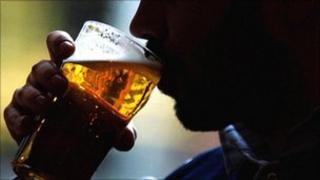 Brewer and pub company Greene King is to buy a London pub chain, beating rival Fuller, Smith and Turner.
The Capital Pub Company, which has 34 pubs in some of London's more upmarket areas, has accepted the £70m cash offer.
It rejected Fullers' £54m takeover approach last month.
Suffolk-based Greene King wants to expand its presence in what it described as London's "growing premium eating and drinking out market".
If the deal is accepted by Capital's shareholders, the combined group will have 250 pubs in Greater London.
Greene King's offer is for 235 pence per share, beating Fullers' offer of 200p per share.
Capital's shares were trading at 155.5p before the offers were made.
On Tuesday, its shares jumped 12% to 236p after accepting Greene King's offer.
The deal marks Greene King's third pub group acquisition this year following the takeovers of RealPubs and Cloverleaf for a combined £108m.
Clive Watson, co-founder and chief executive of Capital Pubs, said: "Greene King is an excellent cultural fit and will be a good home for both the business and our staff."