Who calls the shots at News Corp?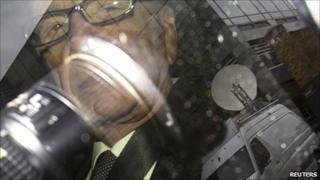 Who calls the shots at News Corp? Until last week, the answer was simple: Rupert Murdoch.
Today, the answer probably remains unchanged. But it would have to be heavily qualified.
With News Corp's share price on the slide, investor disgruntlement is growing.
Some members of his board of directors have begun asking awkward questions, while another recently-joined director has been asked by Mr Murdoch to head up a new crisis committee.
And now both Bloomberg and News Corp's own Wall Street Journal report that Rupert Murdoch may be planning to step down as News Corp chief executive in the coming months, in favour of someone from outside his family.
Class structure
The Murdoch clan own only 12% of the shares in News Corp, according to data compiled by news service Bloomberg.
Yet his control of the company had been absolute until recently.
"There is no scenario where [outside shareholders] have had a say in corporate governance at News Corp," says media analyst Claire Enders. "The Murdochs make all the decisions."
Largely this is because 70% of shares in the media group - the so-called "A shares" - have no voting rights.
So the majority of News Corp investors have no say over who sits on the board, how the company is run, what dividends it pays, and so on.
But even of the remaining "B shares" - the ones with voting rights - the Murdoch family trust owns only a 38% stake, plus an extra 1.3% owned by Rupert Murdoch directly.
Yet the chances of the remaining 60% of investors turning against the chief executive may be slim.
Some 7% is owned by Al-Waleed bin Talal, a Saudi prince who recently confirmed his support for the Murdochs in a BBC interview, praising their "high ethics".
Moreover, the ownership of 40% of those voting shares is not actually known, and could include other investors loyal to the family.
Shareholder revolt?
Nonetheless, recent movements in News Corp's share price suggest investors are less impressed with Mr Murdoch's leadership.
It dropped some 17% in the two weeks to Monday this week, as the phone hacking scandal started to damage News Corp's reputation and broader business interests, via its dropped BSkyB bid, senior management resignations and criminal investigations in the UK and US.
But on Tuesday, the share price bounced back as rumours spread that Mr Murdoch may be departing.
"There are concrete questions in the US about the handling of News International by James Murdoch and his father," says Ms Enders.
"Why was the 2007 report allowed to become a ticking timebomb? People have asked questions repeatedly about why more actions were not taken more quickly."
Even before the phone-hacking scandal re-erupted this month, there had been grumbles about the founder and chief executive's recent business decisions.
These included a multi-billion dollar loss on his recent acquisition of Dow Jones - owners of the Wall Street Journal - as well his aborted foray into social media via the purchase of MySpace.
British activist investor and blogger Terry Smith has become one of Mr Murdoch's most vociferous critics, saying he should have been fired by his shareholders.
The problem that shareholders now face is that there is no precedent for how they can bring the Murdoch's to heel, says Ms Enders.
One option might be litigation.
Two US investors linked to the labour unions are suing News Corp's directors for overpaying when the company bought Shine Group, a UK TV production company, from Mr Murdoch's daughter Elisabeth .
The pair - Amalgamated Bank and the Central Laborers' Pension Fund - have since expanded their lawsuit, to accuse the board of providing "no effective review or oversight" and permitting a "culture run amok" at the News of the World.
'Kicking up a fuss'
But the real fear at News Corp is of future litigation, according to Laura Martin, equity analyst at US brokerage firm Needham & Co.
And she says it is this fear that has driven the independent directors on the firm's board to start asking more probing questions.
"It's all about limiting their own liabilities," she explains. "The prime motivation is to protect their own net worth."
The independent directors, who make up nine of the 17-member News Corp board, have reportedly complained about being left in the dark over the phone-hacking scandal, and questioned whether a change of leadership is needed.
They are led by Viet Dinh, who drafted the US Patriot Act as George W Bush's deputy attorney general, and venture capitalist Tom Perkins.
Mr Dinh legally represented Mr Perkins in 2006 when he resigned as a director of computer-maker Hewlett Packard over alleged spying by its then chairwoman.
"No-one can force [Rupert Murdoch] to leave," says Ms Martin. "They will kick up a fuss... But the only thing they can do is resign."
But as yet, there has been no public criticism of the Murdochs by any of the board members, who also include former British Airways chief executive Rod Eddington and former Spanish prime minister Jose Maria Aznar.
Crisis management
Mr Dinh will now help supervise a new internal committee set up to work with the police over the hacking scandal.
The committee will be run by another director - Joel Klein, who until recently ran the lowly education division at News Corp.
But Mr Klein, who is described as having a "restless energy", is no small fish.
Prior to joining the Rupert Murdoch fold last year, he was widely credited with turning around the public school system in New York City.
Mr Klein's elevation fits a pattern of outsiders gaining at the expense of the family.
James Murdoch - the heir apparent since elder brother Lachlan was sidelined in 2005 - is already under pressure to give up the all-important chairmanship of British Sky Broadcasting.
Now rumours are rife that his star is falling in other ways, including that he may be eclipsed at News Corp by his sister, Elisabeth.
"It all depends on how he looks at the end of the process," says equity analyst Ms Martin.
"If he lied, he's dead. But even if he knew nothing, does he look incompetent?"
'Powerless'
But it is another director who may gain most from this crisis.
President and chief operating officer Chase Carey is being widely touted as a possible non-Murdoch successor to Rupert as chief executive in the coming months.
Mr Carey is credited with having turned around DirecTV, a US satellite broadcaster that used to be owned by News Corp.
Today, he runs the show day-to-day at Mr Murdoch's media conglomerate, but very much under his boss's instructions.
"Shareholders are very comfortable with Chase Carey's leadership," says Ms Martin. "[But] he is powerless... [He] knew the deal when he joined."
But perhaps that is about to change.