Who is more powerful - Murdoch or Parliament?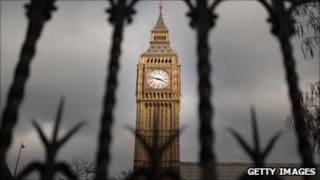 If ever there were a symbol of the uneasy balance of power between national governments and large multinationals companies, it is the spectacle of the British Parliament being poised to vote overwhelmingly (it seems) for Rupert Murdoch's News Corp to abandon its bid for British Sky Broadcasting - but being powerless to force him to abandon that takeover.
If Parliament is sovereign, there is something slightly odd about the idea that the vote can be passed and that Mr Murdoch can choose to ignore it.
Maybe Mr Murdoch will eventually abide by the revealed will of the elected representatives of the British government. But as of last night, Mr Murdoch appeared unimpressed that the prime minister and the deputy prime minister decided to throw their weight behind the leader of the opposition's motion calling on him to drop the takeover.
It is also striking that prime minister is prepared to engage in moral suasion, but does not want to formally prohibit the deal - presumably because it would set a precedent and introduce a whole new degree of uncertainty into the British takeover market in general.
Mr Murdoch's position was that he would abide by due process as set out in British law.
Or to put it another way, he does not see why he should abandon his dream of owning all of the UK's largest broadcaster, unless and until the Competition Commission and the culture secretary Jeremy Hunt rule that the deal represents an unremediable attack on the healthy plurality or diversity of British media - or unless and until News Corp is found by Ofcom, the media regulator, to be not fit and proper owners of BSkyB (see my post of yesterday for more on this).
My impression is that Mr Murdoch is outraged by the impression created by Parliament's behaviour that he and his company are guilty before formal investigations have run their course.
In fact I would not be at all surprised if he were to cite the actions of MPs in voting for him to end the bid as evidence for him of the impossibility that he will get a fair hearing in the judicial and quasi judicial reviews of what the News of the World and other parts of his British operations may or may not have done.
What we are seeing here is a clash between politicians who (perhaps belatedly) are recognising that the laws they enact can't always tether a business of News Corporation's size and power and a company that - like many multinational companies - is obsessed with the letter of the law and has a history of ruthlessly exploiting the letter of the law for commercial advantage
Many of you may well regard the outrage felt within News Corp at the attempt by MPs to persuade him to drop the takeover as little short of bonkers. You may well agree with the prime minister that the stench emanating from the News of the World should be sufficient for Mr Murdoch to volunteer that this priority is cleaning his own stables, rather than acquiring vast and expensive new stables down the road at BSkyB.
But the whole thrust of the policy of successive governments in recent years has been to provide greater certainty to big international companies about the criteria by which takeovers and investments in the UK will be judged. It was a point of pride, for example, for the previous government that politics and politicians would be removed from the process of adjudicating whether companies should be permitted to buy other companies.
Today's vote on the BSkyB takeover puts politics centre stage in the biggest and most important UK takeover of 2011.
Ed Miliband and David Cameron may well be right that a vote with non-binding force of the sort that will take place later today does not change the takeover landscape as radically as would a vote that actually forced Mr Murdoch to drop his deal.
But it does create a precedent for greater political intervention in deals - while simultaneously demonstrating the limits of parliamentary power when it comes to big multinationals.
It's all a bit messy.