India's factory output growth slows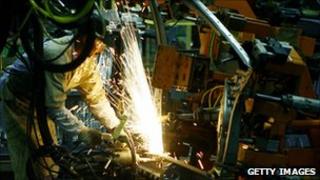 India's factory output grew at a weaker-than-expected rate in May as manufacturing activity slowed.
Industrial output grew by 5.6% in May compared with the same month last year, latest government data showed.
Manufacturing, which accounts for 80% of overall industrial output, also rose by 5.6% in May, compared with growth of 8.9% a year earlier.
The figures come at a time when India has been tightening its monetary policy in an attempt to rein in growth.
"Overall, the data provides further affirmation of the moderating growth trends," said Radhika Rao of Forecast Pte.
Inflation vs growth
India's economy has witnessed robust growth in the past couple of years.
However, the success has come at a price. Consumer prices in the country have surged, affecting the cost of living and becoming a hot political issue.
As a result the government and the Reserve Bank of India (RBI) have intervened to ensure that prices remain in check
The central bank has raised interest rates in the country 10 times since March 2010
Analysts said that with the government focusing on controlling prices, other sectors are likely to suffer.
"We are seeing definite signs of slowdown in interest-rate sensitive sectors," said Rupa Rege Nitsure of Bank of Baroda.
Further tightening?
However, despite the slowdown, analysts said that it was unlikely that the government would change its focus.
They said that given the robust expansion that India's economy has seen in recent times, the current figures are not likely to have a big impact.
"A period of subdued growth should not be a major concern for the authorities," said George Worthington of IFR Markets.
"This data is unlikely to prevent the RBI from further modest tightening in the second half," he added.
Mr Worthington added that manufacturing activity was likely to improve in the coming times "as new investments come on stream, allowing a faster rate of growth without adding to inflationary pressures".