Eurozone ministers meet to discuss debt concerns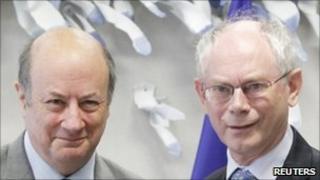 Eurozone finance ministers are due to meet to discuss the continuing debt woes of some member states, with fears growing over Italy's situation.
The talks come amid growing concerns that Italy may be the next eurozone country to require a European Union led bail-out.
Ahead of the meeting, German Chancellor Angela Merkel tried to ease concerns, saying she was sure Italy would pass an austerity budget.
However, Italian shares have fallen.
Bond concern
Ahead of the meeting of finance ministers, leading EU officials met for talks on the situation.
Arranged by European Council president Herman Van Rompuy, those in attendance included Jean-Claude Juncker, European Central Bank president Jean-Claude Trichet, European Commission President Jose Manuel Barroso and EU Economics Affairs Commissioner Olli Rehn.
A spokesman for Mr Van Rompuy denied that the pre-meeting was called in an emergency, saying instead that it had been arranged a week ago to allow for a co-ordinated position.
On Monday, shares in Italy's largest bank, Unicredit Spa, fell 6.3%, following a 7.9% drop on Friday.
The second biggest Italian bank, Intesa Sanpaolo, also fell sharply in Monday trading, closing down 7.7%.
The main Italian share index also lost further ground, shedding almost 4%.
The yield on Italian bonds continued to rise, with the yield on 10-year bonds reaching 5.45%, a level that analysts say is close to levels that could put pressure on Italy's public finances.
The spread of Italy's 10-year government bond yield over the German equivalent hit 2.68%, the largest spread since the euro was introduced.
German Chancellor Angela Merkel said on Monday that she had "full confidence" that the Italian government would pass an austerity budget to help cut its deficit.
"Italy must itself send an important signal by agreeing on a budget that meets the need for frugality and consolidation," she said.
"I have full confidence that the Italian government will pass exactly this kind of budget."
In addition to the situation in Italy, eurozone finance ministers are due to discuss a second financial support package for Greece.
Greece's current bail-out funds, agreed last year, total 110bn euros ($157bn; £98bn), but the government requires more funds to prevent it defaulting on its debt payments in the future.
Also on Monday, EU Internal Markets Commissioner Michel Barnier called for limits on credit rating agencies being able to rule on a nation's debt, if the country in question is gaining EU bail-out funds.
However, analysts questioned whether such a move would be possible.
EU leaders have criticised credit rating agencies for downgrading the debts of Portugal and Greece, which they say unfairly adds to those countries' financial woes.