Euro debt market jitters worsen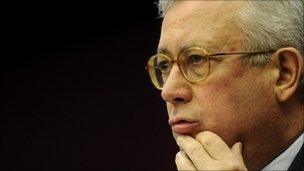 The cost of borrowing for debt-laden Portugal, the Irish Republic and Italy hit new highs on Friday.
Greek debts also sold off, reversing a recent rally on hopes of a new rescue.
Financial markets were reacting to the European Central Bank's decision to raise interest rates, as well as political developments in Italy.
Italian economy minister Giulio Tremonti, a key figure in shoring up the country's finances, has been drawn into a corruption scandal.
There is growing speculation that the economy minister may have to step down after Neapolitan prosecutors requested an arrest warrant for his close associate, Marco Milanese, on corruption charges.
The minister - who is seen as a stalwart defender of budget discipline - is seen as increasingly isolated within the Italian government.
Prime minister Silvio Berlusconi has said he will amend Mr Tremonti's draft budget in parliament, criticising his own minister:
"He is worried about the markets, I understand him. But I always remind him that in politics the result is made up of consensus and votes. He isn't interested in consensus, but we are."
Italy has seen a sharp rise in its 10-year cost of borrowing over the last week, rising from 4.85% to 5.3% - suggesting markets now view the country as almost as risky as recession-hit Spain, which must pay 5.65%.
Meanwhile Greece, the Republic of Ireland and particularly Portugal have seen the value of their debts in financial markets plummet further.
Their implied costs of borrowing in markets for three years now stand at 28%, 16.3% and 18.6% respectively.
The latest sell-off comes as it became increasingly clear that the European Central Bank was more concerned with fighting inflation - which required an interest rate rise from 1.25% to 1.5% on Thursday - than in holding down borrowing costs for embattled governments.
It follows what had been a short-lived respite in the market. Borrowing costs had fallen briefly on expectations that the eurozone would arrange a second bail-out package for Greece after the parliament in Athens pushed through further painful austerity measures.
Related Internet Links
The BBC is not responsible for the content of external sites.