JP Morgan agrees further fraud settlement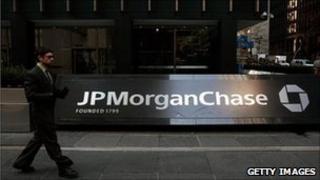 JP Morgan Chase is to pay $228m (£143m) to settle claims it rigged auctions, its second fraud payout in a month.
The deal was reached with regulators, tax authorities and 25 US states, who accused it of fixing bids for state and municipal contracts on 93 occasions.
It comes after the bank agreed a $154m payout to settle charges of misleading buyers of its mortgage investments.
The bank had agreed to co-operate with the US Justice Department, and blamed former employees for the offences.
The department has brought criminal charges against 18 of the bank's former executives - of whom nine have pleaded guilty.
But the bank itself had only faced civil charges after it agreed to co-operate.
The US lender was accused of paying to have a sneak preview of rival bids to win contracts to invest cash on behalf of local and state governments, including those of California, Texas and New Jersey.
"JP Morgan and its former executives deprived municipalities of the competitive process to which they were entitled," said Assistant Attorney General Christine Varney.
For its own part, JP Morgan said it was "pleased to have resolved this matter with its regulators".
It said that the municipal derivatives trading desk of its investment bank, which was responsible for the violations, was shut down in September 2008.
It comes after Bank of America and Switzerland's UBS also separately settled similar charges against them in the US, for $137m and $160m respectively.