HSBC manager held overdrawn customer against her will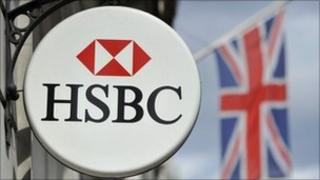 HSBC bank has written off a customer's overdraft after a judge decided it had unlawfully imprisoned her and harassed her with hundreds of phone calls.
Josephine Lewis, from Wootton Bassett, won her civil case against the bank at Swindon County Court.
Judge Tacey Cronin ruled that Miss Lewis's overdraft of £2,070 should be cancelled as HSBC had failed to meet its contractual obligations to her.
HSBC said it was sorry for the stress it had caused Miss Lewis.
Judge Cronin said the bank had failed to run Miss Lewis's account with "reasonable care and skill".
"That Miss Lewis had been wrongfully imprisoned and had been harassed were elements of the bank's failure to abide by its obligations under the contract," said Judge Cronin.
'Unlawful imprisonment'
Josephine Lewis had gone to her HSBC branch in Wootton Bassett in October 2008 to complain about the overdraft fees it had been levying on her account.
When she became upset and wanted to leave the interview room, which had been locked from the inside for privacy, the branch manager Chris Hicks stood up and blocked her way.
"He leapt up, ran past me, and held his arms across the door," Miss Lewis told the BBC.
"The girls behind the counter intervened because they could hear me asking to be let out."
Judge Cronin said: "In my judgement the detention which Miss Lewis experienced at Mr Hicks' hands was distressing, and would have been distressing to anybody who wished to leave the interview, but knew the door was locked.
"That crossed the threshold to the level of unlawful imprisonment," Judge Cronin added.
Telephone harassment
Josephine Lewis' brief detention at the HSBC branch was just one of many related complaints about her debts to HSBC which she took to the county court.
Not all the complaints were upheld.
But Judge Cronin found that Miss Lewis had been harassed by hundreds of phone calls from HSBC during 2008 and 2009.
Many of them were generated by automatic dialling equipment, and some involved threats from bank staff that the calls would continue until she paid up.
The calls continued until October 2009 even though the bank had agreed to stop making them back in May 2008.
They only ended once Miss Lewis started legal proceedings against the bank.
"An excessive number of phone calls (several hundred) were made to Miss Lewis [and] the content of many of the phone calls received by her was abusive and threatening," Judge Cronin said.
"The bank had control of these phone calls and failed to stop them being made, even after indicating that it would so, and this conduct amounts to what the man in the street would describe as harassment," the Judge added.
Judge Cronin said that if Miss Lewis had asked for damages for the wrongful imprisonment and telephone harassment she would have awarded her a further £1,500.
Breach of contract
Judge Cronin also found that at one point the bank had failed to obey an instruction from Miss Lewis to freeze her overdrawn account, allowing more payments to be made, which increased her debt.
It had also failed to tell her when she opened her account what the overdraft fees might be if she went into the red - a breach of the current account contract.
HSBC said it apologised to Miss Lewis for the stress it had caused her and had complied with the court ruling.
"HSBC regrets the way we dealt with Miss Lewis and her complex financial situation," said a spokesman.
"Although we had agreed to her request not to contact her by phone, a error meant she continued to receive some calls regarding her outstanding debt.
"On the occasion in October 2008 when Miss Lewis came into the branch, although she felt she was unable to leave, it is the case she was free to leave at any time," the spokesman claimed.
Stephen Hone, of the campaign website penaltycharges.co.uk, which helped Miss Lewis, said: "The case shows we need legislation to stop unlawful bank charges, as all parties promised before the last election."
'Extreme'
Marc Gander of the Consumers' Action Group (CAG) said: "This seems rather more extreme than usual but harassment of customers in difficulty seems to be routine for many financial institutions."
"Regulators seem to take very little notice," he added.
Josephine Lewis told the BBC she was thrilled to have won her case, but it had been "mentally exhausting and stressful".
"I hope this will encourage other people to try to get their charges back if the bank has breached its contractual obligation to handle an account with care and professional skill," she said.