UK housing market 'facing headwinds', says Halifax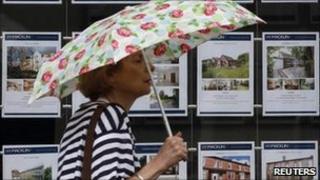 The housing market is facing "significant headwinds" despite prices rising slightly in June, according to the Halifax.
The lender, which is now part of Lloyds Banking Group, said that low pay rises, higher taxes and inflation were all constraining demand from buyers.
But it said low interest rates had maintained housing market stability.
The average home rose in price by 1.2% in June compared with May, but was 3.5% cheaper than a year earlier.
The annual change is based on average prices during the three months to the end of June, compared with the same three-month period of the previous year.
When comparing prices in the three months to the end of June with the previous three months, there was a fall of 0.5% - the smallest quarterly drop since the second quarter of last year.
"Low interest rates, an increase in the number of people in employment and some tightening in market conditions earlier in the year are likely to have been the main factors behind the recent improvement in price trends," said Halifax's housing economist Martin Ellis.
Typical mortgage payments for a new borrower had fallen from a peak of 48% of average disposable earnings in mid-2007 to 28% in the second quarter of 2011, Halifax figures showed.
"A slowly improving economy and sustained low interest rates should help to support broad stability in the market over the coming months," Mr Ellis said.
"The market is, however, likely to continue to face significant headwinds which are expected to constrain housing demand."
It said the average home cost £163,049.
Comparison
The data and analysis, based on Halifax's own lending, is broadly similar to that of the Nationwide Building Society.
A week ago, the Nationwide said that the property market had "moved sideways" in the last six months.
Its figures showed that the value of the typical home was the same in June as in the previous month, but 1.1% lower than in June 2010.
The Land Registry, which produces relatively comprehensive figures that lag behind other surveys, said that prices in England and Wales dropped by 0.4% in May, to push them 2.2% lower than a year earlier.
However, it said that prices in London were bucking the trend.