Bombardier's weary workers face up to uncertain future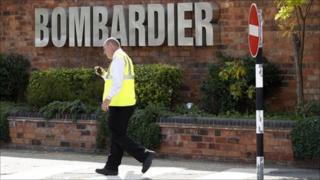 Already weary enough after a busy nightshift, the first workers to leave Bombardier's historic factory in Derby on Tuesday morning took home the news that half them now face redundancy.
Many of those leaving in cars, on pushbikes and on foot simply waved away reporters, who were looking for their reaction to the first of a series of staff briefings that had begun to be held.
The message from others was one of shock at the scale of the job cuts and fears for the future - not just for them, but the whole city.
With a further 12,000 people working for more than 100 local companies in the rail industry supply chain in Derbyshire, one Bombardier worker said: "It will take Derby 20 years to recover from this."
"I don't know how many people are in the dole queue here at the moment, but when this lot join it, they haven't a chance of getting a job."
Given away
Of the Department for Transport's decision to award the £1.4bn Thameslink contract to the German company Siemens, he added: "Other countries never give their work out and we give it away. It's terrible, we have been betrayed by this government."
Another nightshift worker saw things a little less black and white, but agreed the impact of the job losses would be felt far beyond the factory gates.
"Derby is only a small city and this is going to be a massive blow. Can you just blame the government if the bid was not good enough? I don't know."
The Derby site can trace its train-making history back for more than 150 years and many here have family associations with the railways over several generations.
At the site on Tuesday, boiler-suited workers milled around part-made carriages for the London Underground. Only one of the five production lines will still be in operation here beyond September.
All current orders will be finished by 2014 with no more on the horizon.
Interpretation
With their orange and yellow high-viz jackets catching the sun, shop stewards are doing the rounds chatting to their members.
Mark Young, of the union Unite, echoed comments made by Bombardier's management at a press conference on site.
"This would not have happened in France or Germany. They have to abide by the same EU rules as we do, they just have a different way of interpreting them.
"It is not too late for David Cameron to intervene and reverse this decision. He must if this site and the future of British train-making is to be secured."
Across the city, supporters of Bombardier have raised a 10,500-signature petition in the past week, urging the Government to reverse the DfT's decision.
But many of the 1,429 permanent and contract staff said they would be spending the day looking for other jobs before returning for their nightshift at 2200.