Peabody, Shenhua among Mongolia mine bid winners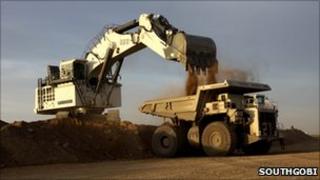 Mongolia has selected three preliminary winners to develop the highly sought-after Tavan Tolgoi coal deposit in the Gobi desert.
The firms are US miner Peabody Energy, China's Shenhua and a Russian-Mongolian consortium, said Reuters news agency quoting a government source.
The Tavan Tolgoi deposit is one of the largest coal fields in the world.
Mineral-rich Mongolia is hoping to become a global mining powerhouse to kick-start its economy.
Mongolia's parliament will now consider the decision, according to a statement seen by the AFP news agency.
Energy needs
Last week, the Mongolian government said it had halved the shortlist of bidders to three from six.
The deal announced Monday, is to develop the western part of the Tsankhi block of Tavan Tolgoi, which contains mainly coking coal used to make steel.
Analysts estimate that whoever ultimately wins the bid will have to make an initial invest about $7bn (£4.36bn).
Mongolia borders China and Russia, both energy hungry countries.
China is the world's largest consumer of coal, relying on it for most of its energy needs.
In turn, Mongolia relies on China to buy its commodities exports.
The country is also looking to access new trading partners in the Far East by negotiation access to Russia's railways and ports.
Domestic development
Initially Mongolia had planned to sell 49% ownership of the Tavan Tolgoi field to foreign investors.
The country later decided to keep 100% state ownership, only awarding development contracts.
The eastern section, the Tsankhi coal block will now be kept for Mongolia and developed by state-owned company Erdenes-Tavan Tolgoi.
The government plans a share flotation later this year to raise as much as $10bn to develop the field.