House sales have fallen so why are prices still high?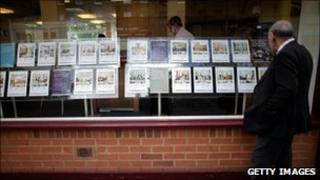 Why are house prices apparently so resistant to the normal laws of supply and demand?
It is one of life's great mysteries.
Houses are still expensive, by anyone's reckoning.
The supply of buyers has been restricted by banks and building societies, who continue to ration their mortgage funds.
The economy is flat, with unemployment high and people's real incomes being driven down by a combination of inflation and low wage rises.
And the level of home sales is roughly half what it was before the banking crisis. So why have prices not collapsed?
Up or down?
The first thing to say is that not everyone believes the statistics.
Each month a slew of house price figures are published by the government (DCLG), Land Registry (for England and Wales), lenders such as the Halifax and the Nationwide, and industry bodies such as the Royal Institution of Chartered Surveyors (Rics).
They often show different monthly movements and variations in medium term trends.
This year they show, variously, that average prices have either been falling gently, have stagnated, or, in the case of the Nationwide, have actually been going up since the start of the year.
Economist and financial adviser Jonathan Davis, a long-term believer that prices can only go down in the medium to long term, casts a jaundiced eye over these figures.
In his view the national position is being distorted by what is going on in London - where prices have been most resilient.
Even that will change, he reckons.
"The big picture remains the same - for most of the country we have not just a state of collapse in transactions, but prices," Mr Davis says.
"The volume of transactions is very low and is not going to get any better, especially when asking prices are 35-40% above actual selling prices."
He said that in London and the South East transaction numbers had collapsed, and that prices were set to follow.
The London effect
Why are prices in the capital still going up, and are not far off their all-time high?
Ed Stansfield of the consultancy Capital Economics, which has been another long-term predictor of falling prices, looks at the differing economic backgrounds.
"One-third of all jobs created since the end of 2009 have been in London and three-quarters of all jobs created have been in London, the South East, South West and in East Anglia," he says.
"So the north-south divide is real in the labour market."
Chuck in the effect of ultra-rich international buyers, who think nothing of paying more than a million pounds for a central London pad, and the bubble in the London property market persists.
Going down
Elsewhere things are very different indeed, with sales very much in the doldrums and prices falling.
According to the Land Registry, they have dropped in the past year by 11% in Blackpool, 7% in Hull, 10% in Peterborough, 12% in Hartlepool, 12% in Port Talbot, and 9% in the county of Northumberland.
Just to make the point that it is not a localised effect in a few blackspots, prices are down 10% in Manchester, 10% in Sunderland, and 10% in Walsall.
Robert Gardner, the chief economist at the Nationwide, has analysed the issue and says the key factor determining the trend in house prices is the character of the local economy.
"It reflects how much manufacturing you have in your area," he says.
"Those regions with most manufacturing are currently those where prices are the lowest, compared to their peak."
The Mexican standoff
One great curiosity is the current gap between the prices people demand, and the prices their homes actually sell for, assuming they sell at all.
Rightmove, the estate agency website that claims to advertise 90% of all homes for sale in the UK, says current asking prices across the country average £236,597.
Selling prices, however, are much lower. The average house price is currently £203,528 (DCLG), £168,205 (Nationwide) or £163,049 (Halifax).
Depending on which survey you favour, this gap could be as much as a whopping 31%.
This has all the appearance of a Mexican standoff, where both sides are lined up facing each other but neither wants to shoot first for fear of being shot in return.
Rightmove explains that the price falls of the past few years mean that many people, who would like to sell, cannot afford to drop their prices.
That would crystallise their negative equity, scuppering their plans to trade up or move on.
Henry Pryor, the property market commentator, says this now affects a lot of people.
"More than a million former first-time buyers are prisoners in their own homes - prices are 18% below their 2007 peak when most people were buying with a 95% mortgage," he says.
"Even if they intended to sell they don't have the 20% deposit they now need to put down on the next house."
What about other facts, such as greed and stupidity?
"There is a considerable lack of realism; most vendors have their heads in the sand," Mr Pryor says.
What next?
So, will prices in London turn down, dragging the national average with it?
Jonathan Davis certainly thinks this is likely, and Ed Stansfield reckons the national momentum is clearly downwards.
"There is still a huge extended over-valuation in the market - any change in the employment situation and consumer sentiment due to income changes will tend to push prices down," Mr Stansfield says.
But several other factors may help push prices the other way, or at least stop them falling much.
Low interest rates, which some think will persist into 2013 or even beyond, may help keep tens of thousands of people in their homes when they might otherwise have been repossessed.
Banks and building societies have been making swifter-than-predicted progress in repaying the emergency lending they had to take from the Bank of England and the Treasury in 2008 during the height of the banking crisis.
As a result, says Bernard Clarke of the Council of Mortgage Lenders (CML), some people may find it a bit easier to get a home loan.
"There has been a little bit of softening of lending criteria, but it is a gentle process," he says.
And Ray Boulger, of mortgage brokers John Charcol, points to an even more fundamental trend - just not enough houses are being built.
There were only about 107,000 new housing starts in the past financial year and only 106,000 completions.
But 240,000 new households were being created by a growing population, boosted by continued immigration.
"New household formation is currently out-stripping new house building - it has been for some time but is doing so to a greater extent now," Mr Boulger says.