Mortgage availability is rising says Moneyfacts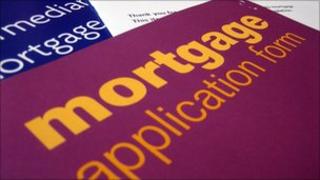 The number of different mortgage products available in the UK market has risen to the highest level since November 2008, figures show.
The increased competition has contributed to falls in the interest rates for new mortgage deals, according to Moneyfacts.
The financial information service said that availability was rising for those offering a deposit of just 10%.
But there has been no return of the pre-banking crisis deposit-free deals.
Deals
Only a handful of mortgages remain on the market for those offering a deposit of less than 10%, and they often have other restrictions attached.
However, there has been a rise in the number of mortgage products at the 10% deposit level, from 176 a year ago to 261 at the start of July.
However, banks remain strict about who they lend to - such as checking applicants' credit history. The largest category of a total of 808 mortgage products still require a deposit of 25%.
The increased availability has created more competition which has helped reduce the cost of home loans.
A week ago, Moneyfacts reported that interest rates on new mortgage deals had fallen to their lowest level, on average, in 23 years.
The average two-year fixed rate deal were at 4.32%, three-year fixed deals now averaged 4.92%, five-year fixes were at 5.29% and the average two-year tracker deal was now at 3.37%, it said.
"Lenders appear to be applying the recent cuts equally across all loan-to-value tiers, which is good news for first-time buyers, as previously cuts were only being applied to the lower loan-to-value bands," a Moneyfacts spokeswoman said.