Volkswagen buys majority stake in MAN truckmaker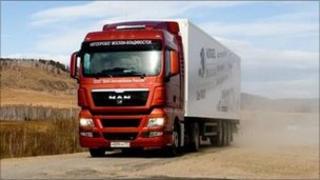 Volkswagen has taken a 56% majority stake in MAN, giving it control of the German heavy truckmaker.
It comes after the German carmaker made a mandatory offer for MAN shares on the Frankfurt stock exchange.
The move adds a second company to VW's truck business, on top of Swedish firm Scania.
With control of MAN, the firm would now seek "synergies between MAN, Scania and Volkswagen" according to chief executive Martin Winterkorn.
Competition
"Volkswagen is more than pleased with the result," he added, after participation by MAN shareholders in the offer was much greater than expected.
The synergies are expected to include some 200m euros ($290m, £180m) in annual savings via joint purchases for the two truckmaking units.
The combination of Scania with the 253-year-old MAN would create a firm big enough to compete with Europe's other two main truckmakers.
The two VW-controlled businesses together produced 172,000 heavy trucks last year, compared with 274,000 by Daimler and 171,000 by Volvo.
"The cooperation with Volkswagen and Scania now enters a new, offensive stage," said a spokesman for MAN, who welcomed the takeover.
The deal still needs to gain regulatory approvals from competition authorities, which may not be straightforward, since the European Commission has already blocked an earlier plan by VW to put Scania executives onto MAN's supervisory board.