EU toy safety rules to be stricter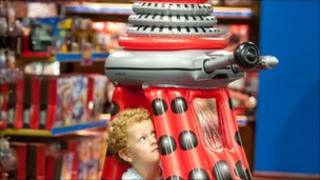 Stricter rules on toy safety will come into force this month making it easier for consumers and authorities to trace the origin of toys.
But the EU-wide regulations, which begin on 20 July, could increase costs for small businesses in the trade, an industry body has warned.
Under the new rules, importers will be responsible for ensuring that toys they bring into the EU are safe.
Contact details must also be carried on packaging.
Regulations
The requirements for toy safety have mushroomed over the last 50 years.
In 1968, the safety documentation on a Sindy doll ran to 16 pages. In 2010, the Dance With Me Teletubbies figurine required 1,692 pages of official paperwork.
Now, the new rules will outline specific responsibilities, placing a greater responsibility on importers and distributors.
A dangerous product identified in one EU member country already triggers an alert throughout Europe, but the new rules are aimed at improving the speed with which the source can be traced.
Surprise
The rules will tighten the rules of toys sold with food. Little figures tucked away, unpackaged, in cereal boxes and the like will be outlawed.
But toys will be allowed to be contained within food if the toys have their own packaging that cannot be swallowed by a small child.
For example, a Kinder Surprise is a chocolate egg with a toy inside it, and the toy is inside a plastic cover. A spokeswoman for Ferrero, which makes them, said the packaging already complied with the new regulations as it carried a warning on the packaging such as "toy inside, adult supervision recommended".
Under the new rules, toys should also carry details of the manufacturer or importer on the packaging and possibly on the toy itself.
Frank Martin, chief executive of Hornby, said that its toys - which could often be very small - were engraved with a Hornby trademark and contact details were on the packaging.
He expected many small toys and multi-part toys to be marked in the same way.
However, he predicted that the next phase of regulations could be a barrier to entry for some smaller businesses. These rules, which come into force in July 2013 relate to required tests for the chemical content of toys - to protect children with allergies.
"It will be more difficult for start-up businesses to get established, which will lead to a concentration in the market," he said.
Jerry Burnie, of the British Toy and Hobby Association, agreed that small businesses could find it tough in what is already a competitive market.
That was because these firms had to pay a testing lab to carry out the checks, unlike larger manufacturers which did the tests in-house. The third-party testing labs were likely to increase charges owing to the greater workload, and so the small manufacturers would be hit "disproportionately".
Wow Toys, a small manufacturer based in London, said it would be facing extra costs because of the higher testing fees, although it was confident of passing the higher standards.
"This new directive, or any upcoming new standard could be very challenging for some companies, but would not be an issue for a responsible or well-prepared one," said its operations manager Lewis Liu.
Other design changes will come into force in 2013, such as regulations on the length of cables for pull-along toys. They will actually be extended to make the toy less likely to be swung around by a small child.