Financial sector sees fastest job growth since 2007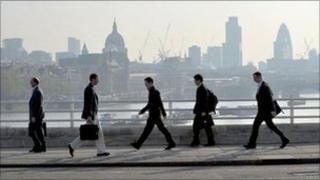 The number of people employed in the UK's financial services sector rose by 11,000 in the second quarter, the fastest rate since the financial crisis began in September 2007, a report says.
The survey by PricewaterhouseCoopers (PwC) and the CBI also said that business volumes in the sector grew.
But the rate of growth was slowing and was expected to slow further in the next three months.
Banking and securities trading were the only sub-sectors to see volumes fall.
'Unsettling' quarter
Ian McCafferty, the CBI's chief economic adviser, said the rise in employment in the sector was both heartening and unexpected.
"Despite sharper cost increases and a small rise in non-performing loans, firms' profitability continued to improve with growth in volumes and incomes," he said.
However, last week Lloyds Banking Group announced it is to cut 15,000 jobs by 2014 as it seeks to cut costs.
Andrew Gray, UK banking leader at PwC, warned: "Concerns about economic recovery and demand have caused a dip in banks' confidence."
He said that it had been an unsettling quarter following the Independent Commission on Banking's interim report, which recommended that banks ringfence their retail arms from their investment banking units.
The loss of the payment protection insurance (PPI) case, which left banks facing an estimated bill of more than £5bn in compensation payouts, also dented confidence, he added.