Australian retail sales dip, rates to be kept on hold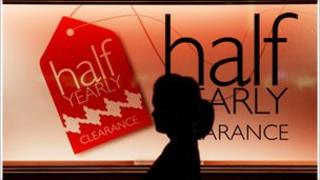 Australian sales of retail goods, such as clothes and shoes, fell unexpectedly in May suffering the biggest drop in seven months.
Retail sales dropped 0.6% compared to the previous month, according to the bureau of statistics. Most analysts had expected a gain of 0.3%.
Other figures out on Monday showed that new home approvals also fell for a second straight month.
The data will strengthen arguments for keeping interest rates on hold.
The Australian dollar weakened slightly after the figures were released.
'Softness across sectors'
The Reserve Bank of Australia (RBA) meets on Tuesday to decide whether to raise interest rates from the current level of 4.75%.
Analysts say that weak consumer demand translated into the drop in retail sales.
"The softness was across sectors and regions, so there's little sign of the pick-up in economic momentum that the RBA was expecting," said Brian Redican of Macquarie Bank.
"The consumer clearly doesn't need any more encouragement from the RBA to stay on the sidelines. It lessens the need for another hike."
In April, retail sales rose 1.2%, revised up from 1.1%. Analysts were expected a pull back after the big bounce but the drop was much more than expected.
Making matters worse is the data on building approvals which fell 7.9% in May.
"All up it's a pretty weak set of data and not encouraging at all," said Michael Turner of RBC Capital Markets.