Greece crisis: Poland's Jacek Rostowski criticises EU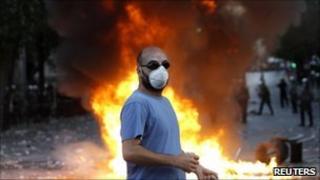 Polish Finance Minister Jacek Rostowski has criticised Europe's handling of the Greek debt crisis.
He suggested that too much emphasis had been put on austerity measures and not enough on growth.
And he accused some opposition parties in eurozone countries of showing a "breathtaking short-sightedness" over decisions to support Greece.
His comments come after Poland took over the six-month presidency of the European Union (EU) on Friday.
Mr Rostowski will now chair meetings of EU finance ministers, and hopes to join talks among eurozone finance ministers - even though Poland has not adopted the euro as its currency.
The EU and International Monetary Fund provided Greece with 110 billion euros in emergency loans in May 2010, with the next instalment due in the coming weeks to stave off the imminent threat of default.
Eurozone finance ministers are discussing the details of a second bail-out designed to help Greece pay its debts until the end of 2014.
'Behind the curve'
Speaking in Warsaw, Mr Rostowski, a British-born economist and academic, suggested that not enough was being done to boost Greek GDP, and that too much focus had been put on cutting spending and increasing taxes.
"It's clear that everybody has made mistakes over the past year and a half," he told reporters. "We've all been behind the curve."
He added that the EU could learn a lot from the IMF's experience of helping countries in financial difficulty.
"The International Monetary Fund has a huge amount of experience... There are lots of things still that we can learn from the way the IMF does things.
"The IMF has been more proactive, has tailored programmes more, bringing in programmes that are not seen as the first step towards bankruptcy.
"In the case of our European programmes, that has not been fully achieved. They must change their character and by doing that, change the way they are perceived."
Support for the Greek, Irish and Portuguese bailouts has deteriorated in some eurozone states, creating domestic political problems.
Mr Rostowski said there could be a breakthrough in the charged political atmosphere in Europe if leaders could show more solidarity.
"What we want to do is to say: This is a common problem for all of us. We all benefit if we resolve it, and we're all going to lose dramatically if we don't resolve it."