Financial compensation payments increase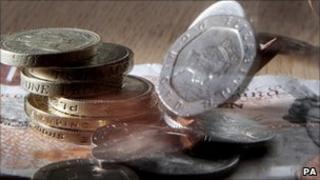 Claims for compensation from those who had savings or investments with collapsed financial businesses rose by 25% in 2010-11.
There were 39,500 new claims from consumers to the Financial Services Compensation Scheme (FSCS), its annual report showed.
It paid out £535m, driven partly by the failure of Keydata and as a result of payment protection insurance claims.
Payments are made to cover savers' losses up to set limits.
Full compensation up to £85,000 per saver, per authorised institution is paid to those who deposit money in an authorised bank or building society if it goes bust.
For investment products, the first £50,000 is covered per person, per firm.
Workload
Some 27,000 of the claims made in 2010-11 were the result of the failure of Keydata. The investment firm was closed down by the City watchdog - the Financial Services Authority - in 2009.
The collapse has become the biggest problem yet for the FSCS which has paid out £214m to Keydata investors in the last financial year.
The scheme is expecting a large volume of claims relating to payment protection insurance (PPI) in the coming year, after 20% of new claims in the last financial year were about PPI.
Some sellers of the loan insurance - which in many cases was mis-sold - subsequently went bust, leading to the claims.
The FSCS has a target of paying compensation to depositors when a bank, building society or credit union goes bust within seven days, although the legal requirement is within 20 working days.