Business leaders defend employment of migrant workers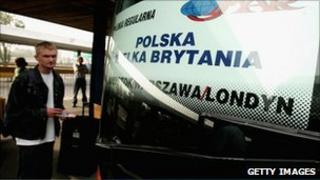 Business leaders have been united in their response to the government's call for them to take on more young British workers - don't blame us for the current situation.
Their comments came after Work and Pensions Secretary Iain Duncan Smith urged UK companies to stop relying on labour from abroad.
David Frost, director general of the British Chambers of Commerce, told the BBC that there were two main reasons why firms were employing more migrant staff, typically from Poland - many young British workers lacked both skills and the work ethic.
He put the blame on the education and benefits systems.
"I'm certainly not going to write off all young people in the UK, we have some tremendous kids," said Mr Frost. "But it is undoubtedly the case that the education system has failed many of them.
"After 11 years of formal education, employers say they get kids coming to them who can't read, who can't write, who can't communicate, and don't have that work ethic."
'Globalised economy'
Mr Frost added that the UK's benefits system "did not incentivise" some young people to seek employment.
By contrast, he praised the hard work of young people who had come to the UK from Eastern Europe.
"So certainly, when you have these bright young Eastern Europeans who really want to work, and have very good customer service skills, then employers are going to turn to them," added Mr Frost.
"And quite right - these businesses are competing in a globalised economy."
Mr Frost's views were echoed by Andrew Cave, head of policy at the Federation of Small Businesses.
"At the heart of what Mr Duncan Smith is saying is a genuine problem," he said.
"And it is a problem that is a consequence of decades during which the connection between the education system in this country and the business community has systematically been eroded.
"So the answer to Mr Duncan Smith's problem is not unfortunately going to be employers now taking on indigenous workers. Employers will always take on the best person for the job."
Instead, Mr Cave and Mr Frost both said the UK education system had to be changed to better equip school and university leavers with the skills businesses need.
"What we need to see is a reconnection between our education system and the business community," said Mr Cave.
Mr Frost added that he was pleased with the coalition government's plans to reform the education system, saying these should be supported.
He also called for reform of the benefits system, saying that able-bodied young people in areas of the UK where jobs are available should not be eligible for any benefits.
'Right guidance'
While the government has tightened regulations to limit workers coming to the UK from outside the European Union, there is little they can do to stop those from within the EU.
This is because under European Union labour laws, most citizens of the EU's 27 member states are able to work in the UK without restriction.
The Recruitment and Employment Confederation (REC), the body that represents the recruitment industry, said it was important that this remained the case, as it would be wrong "to shrink the candidate pool".
Instead, Gillian Econopouly, head of policy at REC, said government and business should work together to tackle the UK's high level of youth unemployment.
"If young people are going to be able to get a foot in the door of what is essentially a global jobs market, employers, recruiters and the government need to work together to ensure that the focus in schools is on giving the right guidance to equip future jobseekers with the skills to succeed," she said.
Ms Econopouly adds that the government should explore financial incentives, such as a National Insurance holiday for small and medium-sized firms that take on young people.
'Exaggerated caricature'
While business leaders continue to question the ability of many young UK job applicants, Dominic Swords, professor of economics at the Henley Business School, said it would be wrong to overplay this argument.
"It is very easy to overemphasise the negative aspects of the labour supply," he said.
"In reality, there are enormous numbers of well-motivated youngsters coming out of the education system.
"When you look at the statistics, there are 80 young people applying for every job. That suggests the caricature of young people on benefits being discouraged from applying for jobs is only a very small part of the picture."
He added that there was "huge potential" to focus on the positive side of the supply of labour in the workplace, and for the government to work with educational institutions to get a good strong match between what they supplied and what businesses needed.